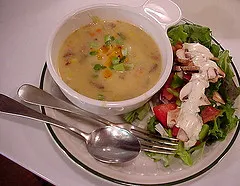 Sometimes I still feel like I'm eating for "two." (I know, you aren't really supposed to consume double while pregnant!) Especially in the early days of breastfeeding, I would get hungry and so thirsty while nursing. I often had to send my hubby off to get me a snack or water.
It was very important for me to eat healthy while pregnant because I had gestational diabetes. If I didn't eat healthy and control my blood sugar then, it could have led to issues with Rissa's in utero development. I was labeled as a high risk pregnancy.
I admit, I dreamed about eating carbs without restriction. I pined for my daughter's birthday so I could resume eating cake and drink Mountain Dew! Oh and funnel cake… yum.
While I was able to treat myself after her arrival (omg cookies!) I was told I still had to monitor my blood sugar until my six week postpartum appointment.
Well, that deflated my balloon.
The nurse that monitored my blood sugar levels each week and adjusted my insulin accordingly informed me that I'd need to be careful with nursing and my blood sugar level. She encouraged me to eat a snack or drink milk or juice prior to nursing or while I nursed.
Why? Because apparently a nursing session can lower blood sugar up to 50 points! I was asked to test immediately before and after a few times so I could gauge how much it affected my levels.
I wasn't so diligent postpartum. I didn't have to worry about directly harming my baby anymore…only myself. Funny how I was so strict for her and only her. Well, I'm happy to say I do not have Type 2 (at this time) since my OB was convinced I was just undiagnosed as Type 2 prior to my pregnancy.
So what's my point?
I learned a lot about my eating habits when I had to make adjustments. I learned to eat healthier. I no longer skipped meals or overly binged. I became used to three meals with small snacks. These are good guidelines for eating while nursing too. As much as I want to lose weight, I know I shouldn't actively diet (as in quick loss) while nursing. I'm actually happy about losing some gradually.
I'm more lax with my intake than I was while pregnant but it's still way better than pre-pregnancy. I need the energy and the nutrients for myself and baby girl. I still take prenatal vitamins to help too. Fruits, veggies, and water are my friends!
Oddly enough, I like more vegetables now than I ever did before.
My improved food lifestyle? I owe to my daughter. She's still my main motivator. (She's more convincing than skinny jeans!) After all, she's starting solids and I need to set a good example!
______
Image credit: eraphernalia_vintage @ Flickr