This post is part of a sponsored campaign with Shipt at Meijer. All thoughts and opinions are our own.
Is it just me, or does grocery shopping take three times longer simply because you brought the kids along?
Grocery shopping is unavoidable, but wouldn't it be nice if someone else did it for you?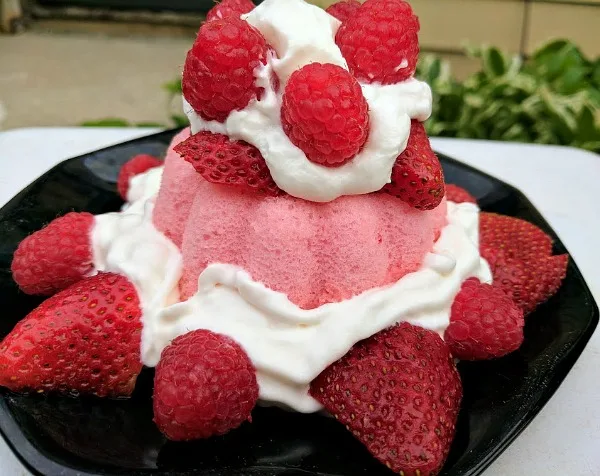 Doesn't that look delicious? I already had strawberries, but I asked my Shipt shopper to pick up raspberries, whipped topping, and small strawberry angel food cakes.
Our favorite grocery store, Meijer, recently began offering Shipt on demand grocery delivery throughout the Milwaukee area. I'm telling you, this is a time saver because I know you are busy.
I know sometimes you dread shopping for groceries too, and I'll show you how easy this is to use.
Save Time With Shipt Grocery Delivery From Meijer
Even if I go to the store alone (or send my husband), it takes time. We all have the same number of hours per day, but juggling errands and activities is difficult if you only have one car like us. Or the timing is tricky, but you are almost out of milk and a few other things.
And if I'm being honest, there are days I plain do not want to go to the store. However, I haven't figured out how to make food teleport into my fridge and cabinets…yet.
Using Shipt grocery delivery from Meijer is the next best thing.
I love ordering pantry staples I run out of, items for cooking out over the weekend, plus ingredients to make a simple dessert.
How to Use Shipt Grocery Delivery
You can place your order using the Shipt app on your mobile device or using the website on your computer. The Shipt app is super easy to use. In the Shipt grocery delivery app tutorial below, I show you around the app and how to place an order.
I like that I can add stuff to my cart when I am having my morning coffee or while waiting for my daughter's T-ball game to begin. You can choose which available delivery window works best for you that day or the following day.
What's cool is they make it easy to choose a more convenient delivery location (as long as it is in the covered area) if needed. For example, instead of grabbing groceries on your way home from work, have them delivered to you before you leave or meet half way.
Planning a party at your in-laws' house? Have your supplies delivered there instead of bringing it all with you.
Mom friend had a new baby? Send over some groceries, diapers, or other baby essentials.
Someone does need to be there when everything is dropped off though!
After your Shipt shopper delivers your groceries, you may choose to tip them with cash or through the app. You'll also be asked to rate your shopper. My biggest concern was having someone else pick out my produce, but she did an excellent job. Now I feel comfortable ordering more fresh fruits and veggies.
Tips for Using Shipt Grocery Delivery
Make a list within the app – I have one I created with a list of basics that we frequently purchase. You can easily click to add all the list items to your cart. This saves time so you are not wasting time looking for items you always order, such as milk and bread.

Browse the sale section – Remember the prices on Shipt may not match the sale flier or in store (though I found them to be pretty close). Also, you will not be able to use mPerks or Meijer gift cards. There are plenty of sale items to choose from though!
Plan to spend $35+ – There is no delivery charge if your grocery order is $35 or more. I understand sometimes a fee for a small urgent order is worth it though!
Keep your phone handy – Your shopper will communicate with you so you'll know when they start shopping, when they're checking out, and when they arrive at your home. If they cannot find an item on your list, they will be texting to let you know and ask questions about substituting items.
Try it out – Seriously, that is the best tip I have for you. You can try Shipt free for two weeks. After that, you'll need to decide if you want to pay monthly or yearly. There are no contracts so you may cancel at anytime. A Shipt membership is $14 per month or $99 for one year.
Final Thoughts on Shipt Grocery Delivery From Meijer
While Shipt grocery delivery from Meijer will not completely replace my shopping trips, it will help my family save time and money. With on demand grocery delivery I'm not tempted with frivolous purchases since our Shipt shopper will stick to the list better than I ever could.
It will also be helpful on busy weeks when I need to delegate errands in order to manage my time more efficiently. I need to get better at that. There is no reason I have to be everywhere to do everything all the time!
Sign up for Shipt with my referral link for two free weeks and a $10 grocery credit. You can also check out two free weeks and a $10 grocery credit!
What will you do with the extra time you'll save by using Shipt instead of going grocery shopping?