I have a mishmash of holiday tips here for you and I hope at least one sounds helpful. Share your tips in the comments!
Organizing Seasonal Decor
1 – Use clear storage bins so it's easier to see what is inside, even if you labeled it.
2 – Rotate all knick knacks and decorations to keep things from looking cluttered and mismatched.
3 – Carefully roll up lights and use twisty ties to keep them from unraveling and getting tangled. While they are neatly coiled, plug them in to check them!
Food Planning
4 – Grocery shop as far in advance as you can before cooking and baking. The stores are super busy the closer it gets to Thanksgiving and then Christmas. Try not to be that person who pries the store doors open and insists on doing a fully loaded shopping cart trip JUST as they were closing on the holiday.
5 – Place orders for trays, cakes, turkeys, etc. as early as you can. I used to work in the deli and there was nothing worse than a last minute rush order. Sometimes we couldn't take the orders due to the short notice, the amount of orders already in, and inventory.
Shopping for Presents
6 – Shop during the morning or midday during the week so it won't be as busy as evenings and weekends (this goes for groceries too).
7 – Make a list of everyone you need to get presents for and set a budget per person. Stick to it! I find we stay within our holiday budget better this way instead of just setting a blanket gift limit. Plus, then the giving seems more balanced.
8 – Watch for sales and gift ideas all year round. Check online too and make use of free ship-to-store pickup when you can rather than paying shipping.
Holiday Cards
9 – Send out your holiday Christmas cards at the beginning of December. Keep the ones sent to you and make a list. Next year, be sure to send cards to those who sent them to you. If you have extras, mail a return one when you receive a card from someone who wasn't on your send list. I like to use ones that say "Happy Holidays" or are a bit more vague so timing isn't as much of an issue like this one: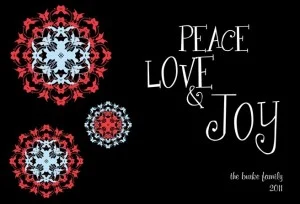 Reuse and Save
10 – Save gift bags and tissue paper that are in good shape (i.e. little to no tearing, not crumpled up). Fold them up and lay them flat in a storage container. Check this box any time you need a gift bag and tissue paper. Rather than throwing it away or putting it in the recycling, it can get used again. If you are like our family, some of the same boxes and bags get regifted every year!
________
Disclosure: I wrote this blog post while participating in the Storkie holiday blogging program. I received compensation for my participation. All opinions are 100% mine.