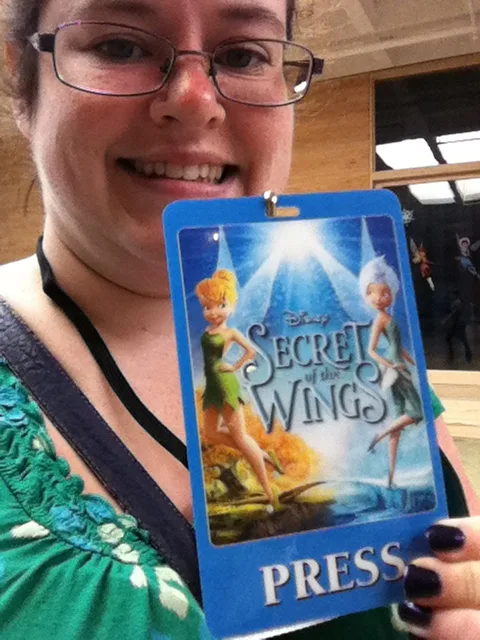 I can hardly believe it was only two months ago that I was in Los Angeles. That month was jam packed with traveling and exciting opportunities that it feels like it was so long ago already. The whole experience was absolutely amazing and a real treat. I love being able to share behind the scenes things with you and learning more about the magic that goes into my beloved Disney films.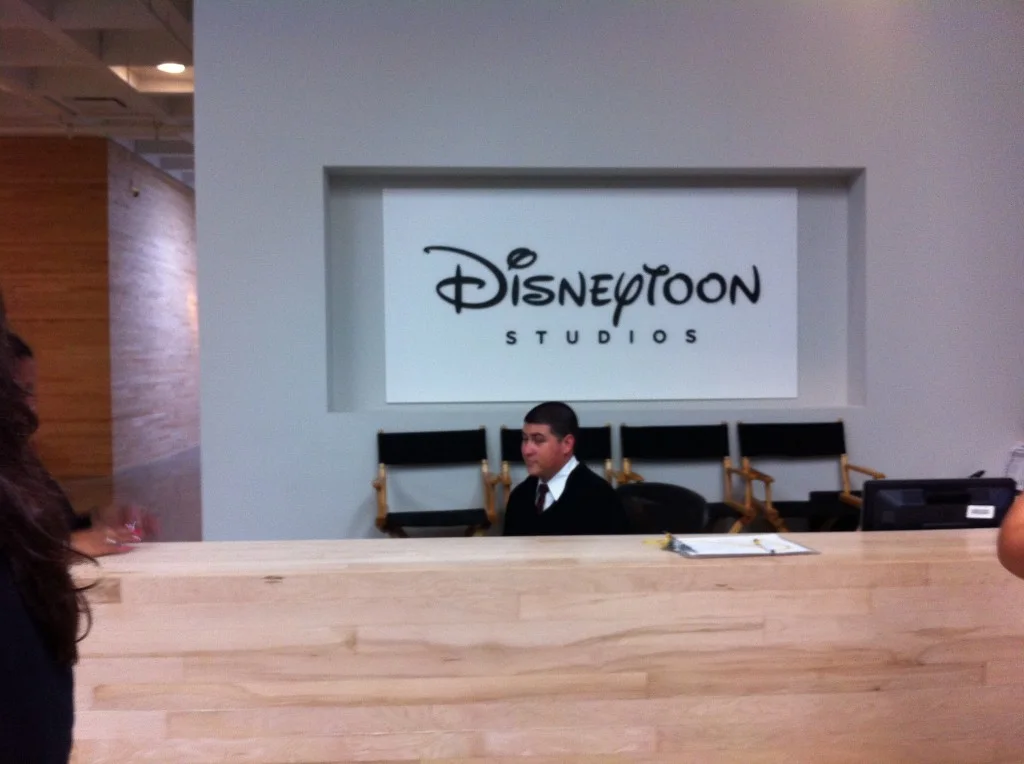 One of the final experiences I want to share with you was my time at DisneyToon Studios. DisneyToon Studios is one of the animation studios owned by Walt Disney. It is where many direct to DVD movies are created, such as the fairy movies. It was there that I got to glimpse some new Tinker Bell merchandise as well as meet a few key players from Secret of the Wings (which came out October 23rd, 2012) such as the director, producer, art director, lead lighting, animator, and audio engineer.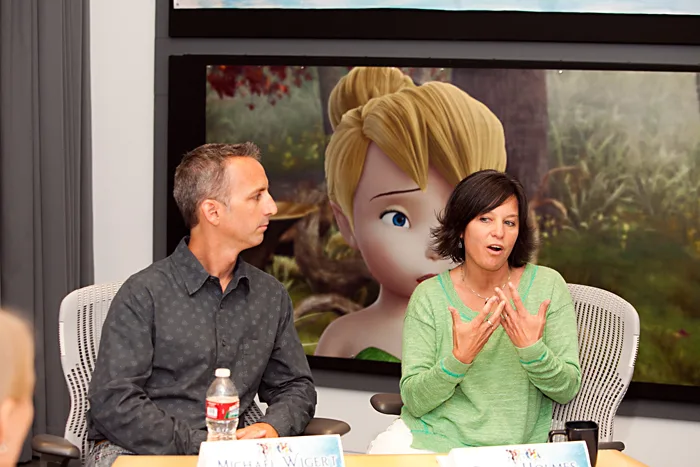 About the development of Secret of the Wings
We met and talked with Peggy Holms (director) and Michael Wigert (producer) to learn more about what went into writing the fourth fairy movie. One thing they made very clear is that John Lasseter (producer) wants their films to have truth in their foundation, which means always looking to nature and real life. They brought in a specialist in snow and frost because of this and learned about a special kind of frost that protects plants. The research that went into the movie helped generate additional story ideas!
I learned that the original pitch for Secret of the Wings was to be about Queen Clarion and her sister Milorie. When the fairy movies started it wasn't planned to have a sister for Tinker Bell. Instead they chose to create a story about Tinker Bell having a long lost twin sister. Queen Clarion's "sister" was then altered to be Lord Milori, the male fairy that oversees the Winter Woods.
The decision to make Tinker Bell and Periwinkle twin sisters made for a stronger emotional connection. They brought in a twin expert who specialized in studies regarding twins who were separated early in life and then reunited later. There are many twin aspects that manifest in the movie and their fairy wings are identical just like identical twins fingerprints.
They made a conscious effort to keep winter from being too Christmas-y and stick to it representing the season. Now that all four seasons have been explored and the fairy world built, there will continue to be more movies to explore various story lines!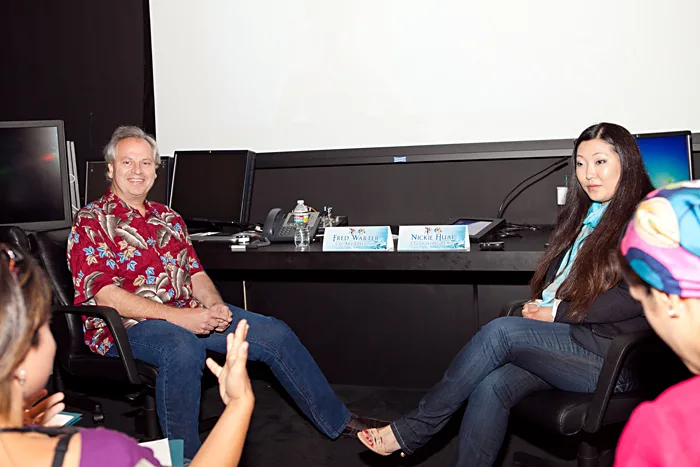 Bringing the Wings to Life
Fred Warter (Art Director) and Nickie Huai (Lead Lighting) were tasked with creating the special wings of Tink and Peri. As they said, it was a special challenge because they weren't just any ol' wings – they represented an emotional connection and their twinhood. Wing patterns are like fingerprints for the fairies, so they are a rare pair of identical wings.
The process of creating the wings started with Fred's 2D painting. They looked to nature for inspiration since simply adding color didn't create the desired effect they were looking for. They looked at dragonfly wings, feathers, opals, and finally abaloni shells, which look white or rainbow-like depending on how the light hits them.
Nickie then works on transforming Fred's 2D painting to a 3D image where she has to work on the lighting and texture. This meant more tweaking of the color and shading. It took them about a year to develop the first version of the wings and then another 6 months to finalize them. That's a lot of work for just a pair of fairy wings! Fred and Nickie talked about how this was the most complex of the fairy movies due to the twin wings and snow effects.
I asked them about the lack of breath effects in the Winter Woods (being from a cold weather state and all!). They shared that they had to make decisions about things like falling snow and visible breath so that they looked natural and not distracting. When in the Winter Woods it was too distracting to have everyone with puffs of breath all the time. However, they introduced it during a point near the end of the movie to emphasize just how much the temperature dropped.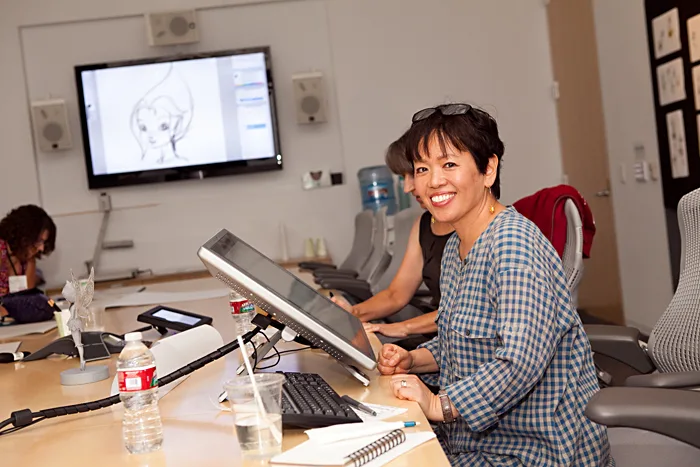 So you think you can draw…
It was an honor to meet Ritsuko Notani, character designer/animator. She has been the principal designer of all the major and supporting fairies since the first fairy movie, including Tinker Bell! Most recently Ritsuko designed Periwinkle. She also talked about Lasseter's need for everything in the film world to be taken from the real world, so she looked to plants for inspiration for everything from Periwinkle's clothing to her hairstyle. Her dress is made from lamb's ear leaf and her hair is designed after the frost flower. When transforming Peri from 2D to 3D, they brought in a hairstylist to help.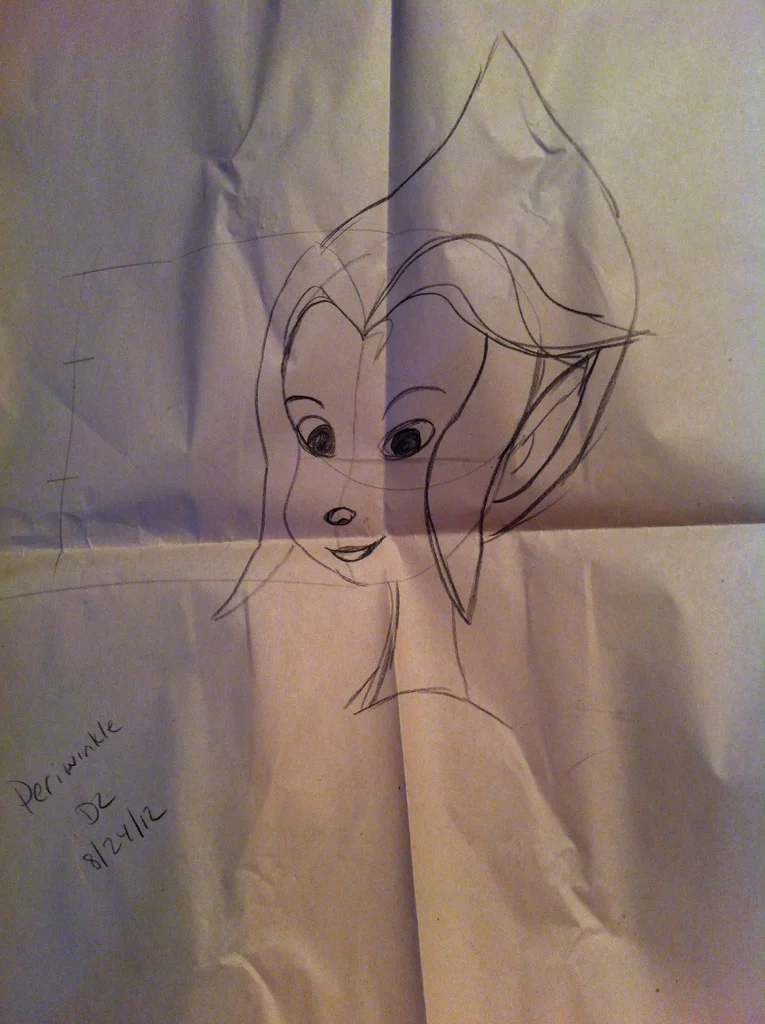 Ritsuko also gave us a quick sketching lesson. Above is my sketch of Periwinkle. I don't think I could duplicate it if I tried, but with her instruction I felt like I could actually draw! I loved looking at the character sheets she sketched of Peri with just about every facial expression you can think of – such a talented artist… unlike myself.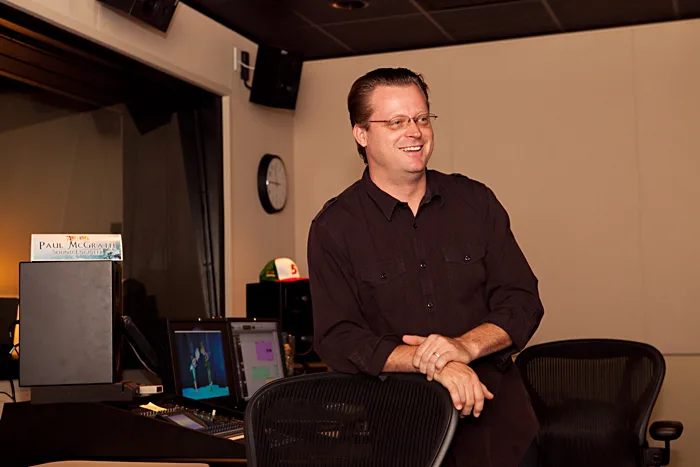 Which comes first: the lips or the voice?
We met with Paul McGrath, an audio engineer. Once upon a time (not so very long ago) I wanted to get into voice acting. I didn't know anything about it, but have been complimented on my voice (particularly my "phone voice"). It seemed like a fun and different way of acting that I could do.
We learned that the script is written first, then there are people who read the lines so the animators can sketch the characters to match the expressions and mouth movements. At any point they can take out voices and record new ones in their place. This is why I often thought they were recording after the animation was done, because the final voice actors tend to record near the end of the process. One of Paul's jobs is to slide around the audio to match it up with the animated lips!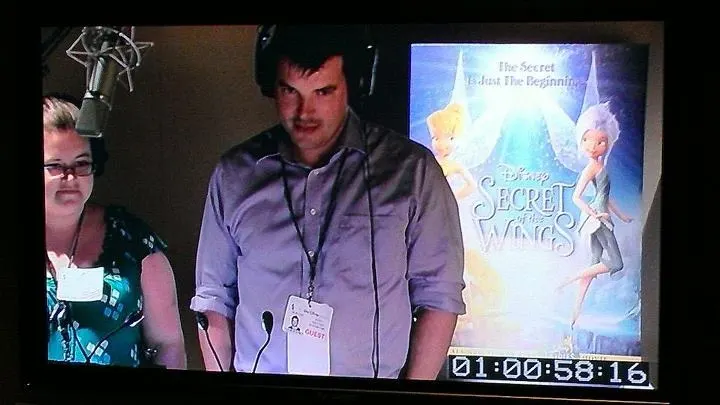 We got to see it in practice after recording a few lines ourselves. I was SO nervous. Once I put the headphones on, I could hear my heart pounding in my chest. I had more of an audience than most voice actors have, I think, since several of my blogger friends were watching and listening while I was in the sound booth. It was fun though – I got to do Tink's voice for a few lines of a television promo clip. (Just for fun though – I don't have a copy of the end result and my voice wasn't really used for it.) It was neat seeing how Paul could make slight adjustments to get our voices to match the lips… though I did a pretty good job initially if I do say so myself!
As you can imagine this whole experience made for a very fun day! I'd love to do it again sometime and maybe someone will take notice of my awesome voice talent? (A girl can hope, right? It'd be like a dream come true to work for Disney!)
Which part do you think you would have enjoyed experiencing the most?
____
Disclosure: I attended an expenses paid press trip courtesy of Disney; no other compensation was provided.