I couldn't wait until the next Wordless Wednesday to share this… and I can't be wordless about it either! Ha!
We took Rissa on her first trip to the pumpkin farm. It was bright, but windy and cool. (Ahh, fall in Wisconsin….) We didn't do all the typical activities offered there (corn maze, hay ride, apple picking) because we were in search of pumpkins. We found a nice big round one to use as her birthday pumpkin. Then we picked out a couple more.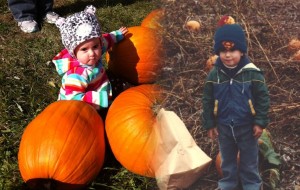 And, we had to get a shot of Riss by some pumpkins! Her dad has a picture from one of his boyhood trips (I don't recall any pics of me at a pumpkin farm.) I think this is super adorable and can't wait until she's a bit older when we go. We'll have so much fun!