What's Halloween without pumpkin carving? It's probably one of the most common traditions families have around Halloween. I remember us doing it a few times when I was little but I usually was given a small squash to draw faces on. My dad never liked me playing with sharp objects. It has been years since either Brian or I have carved a pumpkin, but we are going to be doing it every year now!
Being pumpkin carving noobs, we actually had to think about how to start. Thankfully the kit I received said you could cut a whole on the top or bottom. We went with the top.
We received three new products from Pumpkin Masters who is celebrating it's 25th year as a well known carving and decorating supplier. I saw Pumpkin Masters kits and accessories just about everywhere I went shopping this month, such as the grocery store and Kmart. Here are the kits we received:
Reflective Stickers: A fun way to be seen on Halloween night, this kit allows kids to personalize costumes and accessories by selecting from 100 stickers in four reflective colors. The stickers are great for pumpkin decorating too.

Flickering Mayhem Light:

Add a spooky effect to carved pumpkins and haunted house displays with this battery-operated LED light that brightens, flashes and dims.
All-in-One Carving Kit: Featuring 12 patterns, 12 foam stickers, eight eye inserts, carving tools and a light, this kit makes it easy to create dozens of pumpkin designs.
I really liked the All-in-One carving kit. The booklet of designs had a nice selection. There were easy patterns and more difficult ones, all marked with a skill ranking. We decided to only carve one pumpkin this past weekend, especially since it's been so rainy. We're saving the birthday pumpkin until closer to RissaBoo's big day. The other pumpkin will be decorated without carving, I think.
I thought the scooper worked well for removing the guts and gave me the ability to scrape the inside in order to make the walls a bit thinner. The sawing knife, while not intended for children to use without supervision, is not very durable. After Brian cut the top open, the saw bent. It was still safer than using a kitchen knife!
The pattern was tough to use just leaving the paper taped on because it gets wet. It's advised to transfer the pattern onto the pumpkin either with the crayon provided in the kit or with the poker accessory. When poking dots into the flesh it makes it easier to saw along them. Brian and I picked out the spider pattern. It was intermediate level but I (who wasn't carving) was all don't wuss out! It looks easy! There are several more I like and save for next year.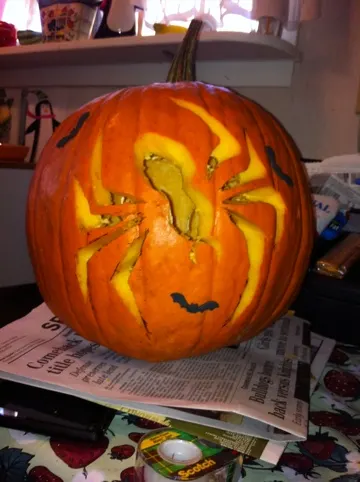 I thought it turned out well despite a few improvisations. I added some foam bat stickers to it as well. I was surprised how well they stuck to the pumpkin. I didn't use the rest of the stickers yet. Using lights is safer than candles, but we had to choose which light: the flickering mayhem or the one from the kit that looks like a fake candle. We chose the Mayhem light. I like this light because it has an unsteady flickery pattern like a candle nearly being blown out. It definitely makes for a good light choice in a jack-o-lantern!
Pumpkin Masters cost an average of $3-$7 so they are affordable carving supplies. They are available at many nationwide retailers.
What do you think of my hubby's mad carvin' skills? Have you carved yours yet?
______
FTC Disclosure: I received the product(s) mentioned above free of charge by the company or PR representative in order to conduct an honest review. I was not compensated in any other way for this post. The thoughts, experiences, and opinions included are entirely my own and may differ from that of others. I am not liable for any issues you may incur from use of said product(s). Images used are owned by me or provided with the company's permission unless otherwise sourced. See full disclosure information. If you have any questions you can contact me or leave a comment.