Whether you are traveling near or far from home, a travel crib can come in handy. Xander isn't mobile yet, but I often used a portable crib/playpen to keep Rissa safe and contained when I needed to leave her unattended for a few moments. I'm thinking even outside I might need to use a travel crib in case I need to put Little Man down and run off after Rissa or attend to her in a way that requires taking my eyes off the baby for too long.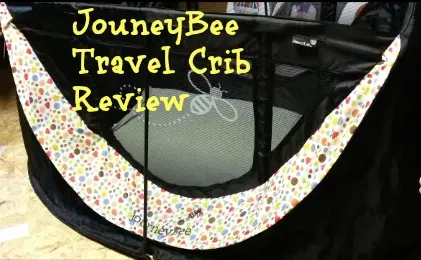 Shortly after I returned from Blissdom, ParentLab sent me their JourneyBee Travel Crib to try out and review. The best place I could think to test it out (for now) is down in the playroom we're building. So, I grabbed the kids, the camera, the crib and headed downstairs. I unboxed it, set it up, put the kids in it, and put it away again. I really wanted to be able to show you how easy it is to set up and take down (or not, if that was the case).
ParentLab JourneyBee Travel Crib Video Review
(Video)
As you can see in the video, it really is easy to open and close by yourself. That's huge for me! I don't like fighting to open baby gear and I certainly don't like it when I can't close something without help. This crib literally popped open for me!
It is on the larger side compared to other portable cribs I've used. I'm also not sure how I feel about the fleece liner. Right now it sticks pretty well, but I know how hook and loop wears down and out with use. It isn't that hard to detach either – if your child is pulling on it. Otherwise I think it is very nice.
The mattress going into a pocket underneath was different, but I kind of like that. I do think that option is safer for sleep. I also really liked the stabilization bars on the sides. It made me less worried about it getting tipped over by a child trying to climb out or in. Also, the space for two kids to play and/or lay down next to each other is fantastic.
So for folding it back up – it's pretty easy. I had no clue what I was doing yet still managed to close it up and fit it back inside the carrying bag! Maybe we'll take it up by Gramma and Grampa soon?
Interested in your very own JourneyBee travel crib? Use the code mSiKoAFZ for 10% OFF at checkout on ParentLab.com (affiliate link).
How do you handle sleeping arrangements while traveling?