This is a follow up to my review of Rita Hazan Root Concealer since I am still using this product a year later.
Ever wonder which products your favorite bloggers continue to use months – even years – after you read their review? Many of you know that I continue to struggle with my gray hair. For awhile after Xander was born, I considered growing it out.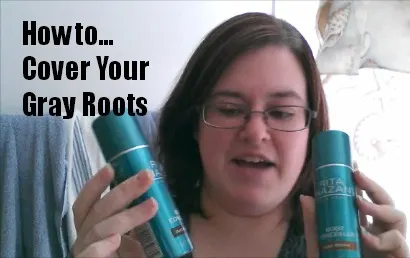 No matter how many times I cover it, it stubbornly comes back. It likes to stand out and call attention to my outgrowth which can eat at my self-image at times. Other days I joke about it and shrug it off.
But… with putting myself in front of the camera more these days, I started worrying about it again. So, let's talk about the gray elephant in the room and look at how I cover up my roots (when I remember, ha!).
(Video)
There are 4 colors available which do not contain any of the following nasty ingredients:
Parabens,

Sulfates

Synthetic Fragrances

Synthetic Dyes

Petrochemicals

Phthalates

GMOs

Triclosan
Spray evenly on dry, styled hair. It is water and sweat resistant, but will wash out!
You can buy Rita Hazan Root Concealer for Gray Coverage at Sephora for about $25. That's cheaper than multiple root touch up kits because this will last awhile.