Once upon a time before having kids, I imagined wanting to have kid-free nights… as often as necessary and possible to keep me sane. To have ME time.
It didn't take long before I discovered I don't often want kid-free time. Maybe "off of my lap" time, but not "completely out of the house" time. I enjoy being with my entire family. I enjoy time with my daughter. I feel guilty and weird doing things without her.
Next week I fly out to New York City for a weekend away from my family. It will be filled with fun activities, other bloggers who are moms, and glitz and glamour.
It will be a one of a kind opportunity I can't miss.
I don't want to miss.
I won't miss.
But am I ready for this kind of trip?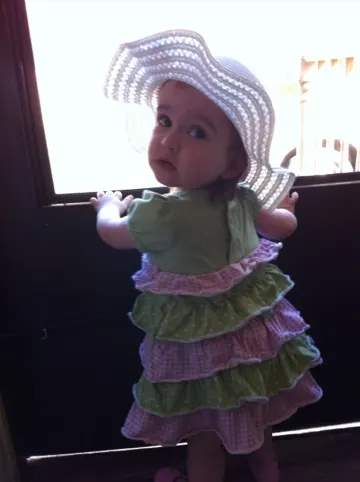 I have never left my daughter for more than a couple hours. It feels like a big shock to be away from her for three days. Deep down I know everything will be okay. I know it will be a good weekend for both of us. She gets to bond with her dad and I get to have a mini working vacation.
If this trip had come up any earlier in my daughter's life, I don't think I could justify leaving her. While she is with me 95% of the time, she's now capable of understanding I don't disappear when she can't see me. She knows I'll come back.
I always come back.
She fusses less when I leave her now, which is good but a reminder to me that my baby is growing up. A step closer to not needing mommy anymore (though a daughter will always need mom on some level!). As I think more about how she will do without me, I realized the concern is more about me. How I will do without her.
It's me leaving her in someone else's care for three full days. Yes, it's my husband, but it's not me. Separation anxiety is just as much a mom issue as a baby issue, I've decided. I do think I'm ready though. I'm nervous about flying alone (only have flown with my husband) so the combination seems to be scaring me more than I want to admit.
What's the longest you have been away from your kids? When did you first have more than a day away from them?
I will survive, right?