Spring is a fun time to bake. I feel like it's the perfect excuse for sweets and pretty colors. Cakes, cupcakes, cookies, and more! Others might think of breakfasts or other deliciousness, but when I bake I gravitate towards sweets. Whether we are baking, cooking, or grilling, we LOVE McCormick products. They have awesome seasonings (especially for grilling), and can easily meet all my needs for spices, extracts, and food coloring.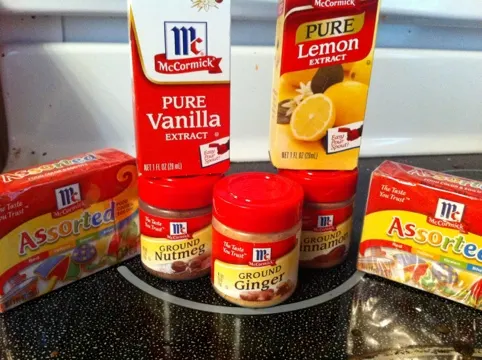 There are lots of inspiring Spring recipes on the McCormick Pinterest Board. They are also having a contest where you follow their board, pin your favorite recipes from their site, and send them a photo of your own recreation of a yummy spring recipe! See all the rules, deadlines, and details here.
So, since I received several new McCormick products, I wanted to bake something from scratch. I'm usually a box mix with a twist kind of girl. I like to add my own flair, but usually use a box mix as my base. But, I was determined to bake some Rainbow Cupcakes from scratch! My original plan also involved a pudding filling in the middle of them, but the process of filling them did NOT go as planned. So, I'll just leave that part out of the recipe.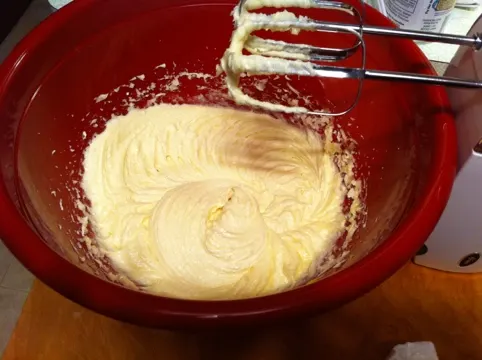 I started with creaming the sugar and butter, then added in eggs and vanilla extract.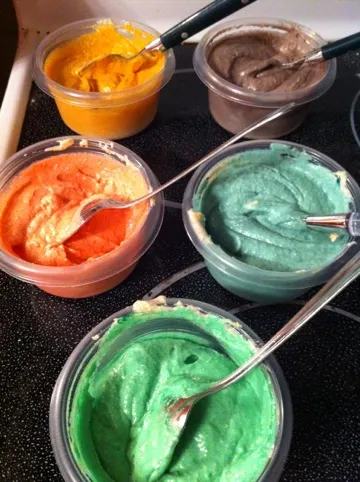 Once my batter was ready I split it up into separate little bowls. I used about 6-10 drops of food coloring to achieve the shades I wanted.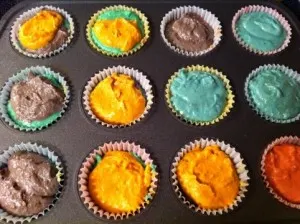 Then I had fun filling the cupcake liners with spoonfuls of different colors. I didn't do all of them the same. Some had 5 layers of color, others only 3. I tend to fill mine high because I like BIG cupcakes.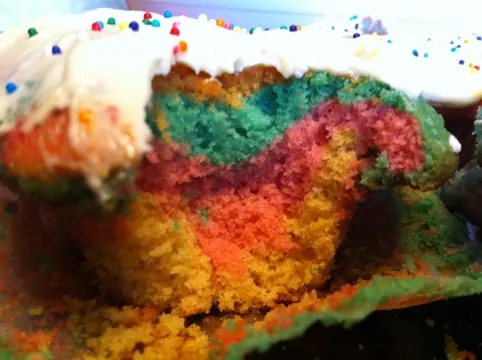 They came out a little dry and crumbly, but they sure were pretty!
Rainbow Cupcake Recipe
Ingredients:
3 cups cake flour sifted (I used whole wheat pastry flour)
2 1/2 teaspoons baking powder
1/2 teaspoon salt
2/3 cup butter or margarine softened
1 3/4 cups granulated sugar
2 eggs
1 1/2 teaspoons vanilla extract (McCormick)
1 1/4 cups milk
Assorted Food Coloring (McCormick)
Directions:
1. Preheat the oven to 350 degrees Fahrenheit.
2. Combine flour, baking soda, and salt in one bowl and set to the side. To prevent clumps, you can sift them through a sieve.
3. Cream butter and sugar together. (I used my hand mixer, yay) Add eggs and vanilla and beat together thoroughly. (Eggs and butter were at room temperature, then I softened the butter a bit more in the microwave)
4. Add in some of the flour mixture, beat, then add in some of the milk, and mix. Do this until everything is mixed together.
5. Scoop batter into separate bowls. Add food coloring as desired and stir.
6. Spray cupcake pan lightly and place liners. (Spray so the tops don't stick!)
7. Layer spoonfuls of different colored batter into the liners.
8. Bake for about 20 minutes. They are done if the tops spring back when pressed lightly and/or a toothpick inserted in the middle comes out clean.
9. Makes 18 when you fill the liners to the top (like me).
I used a yellow cupcake recipe from Wilton. I think the whole wheat pastry flour caused my cupcakes to be dry. Either use all purpose flour or do a combination of the two. Maybe add an additional egg. I haven't had a chance to try and tweak the recipe to my liking.
_____
Disclosure: I participated in a campaign on behalf of Mom Central Consulting for McCormick. I received product samples and a promotional item to thank me for participating.