School is where the education magic happens, right? I learned some stuff, but a lot of the important things I need to apply to life were learned through experience. Oftentimes as I botched it up. Some I may never learn properly. Sure, a few of these lessons I'm about to share with you may have been offered in college or assumed my parents would teach me.
Still… for all the As and Bs I got, they did me little good out in the "real" world.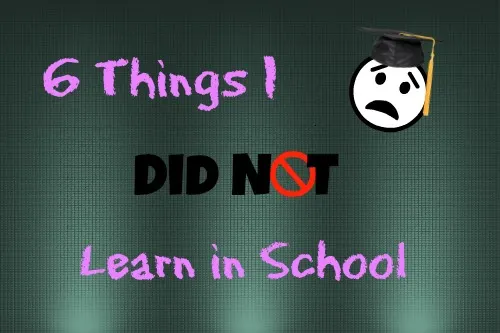 6 Things I Never Learned in School
#1 How to fall in love.
I sort of learned this during school though it wasn't on the curriculum. I spent far too much time chasing boys, and chasing the wrong ones at that. I learned several lessons in love the hard way. I knew it was important to find the "right" man to marry, but I didn't have a clue what that meant or what to look for. Good thing I lucked out with meeting my husband online. (Never learned how to meet someone from the internet when I was in school either.)
#2 How to fold a map and find north.
I'm not very good with directions and am afraid of getting lost. It doesn't matter if we are standing in the woods or on my street corner, I could not point north with any confidence. Sense of direction is lost on me. I find compasses confusing too. I can sort of read a map, but prefer broken down directions (please tell me to turn right on Main Street past the McDonald's – I need street names and landmarks). What I can never do for the life of me is fold the dang map. Mama Kat can't read the map, and I can't fold it. If we get lost together somewhere we are doomed.
#3 How to balance a checkbook and manage credit.
Growing up we lived paycheck to paycheck most of the time. While I knew money was tight, I didn't know how to budget or save money. I continue to struggle with this. Balance a checkbook? Please. If I see money is in my account I assume I can spend it while my brain tries to hide memories of bills in a dark corner. And credit? Let's just say it was not a good thing that Discover Card approved me for not 1, but 2 credit cards when I was in college. I understand credit better now and don't use it much… but it all started with needing concert tickets, beer, and smokes. You know, college staples.
#4 How to cook.
Heck, I had to look up how to peel a kiwi. Okay, I can kind of cook. I can follow a recipe, but I struggle to really cook. I wish I was better at opening my cabinets and fridge, looking at the contents, and whipping something together. Recipe creation is not my strong suit, though I'm trying more and more. Still, the whole meal gets lost in translation. Too often I make something then we're like "umm, what should go with this?" I know, it correlates with my struggle to eat healthy.
#5 How to jump a car.
I can change a tire, but I don't have a clue what to do with jumper cables. I think you hook them up to car batteries… and beyond that I'm not sure what to do. It's not as common of an occurrence these days it seems, but it happened enough in the past where I've been approached to jump a stranger's car in a parking lot or two. I always lied that I couldn't – it wasn't my car – I don't have cables – have to run… never let them know I didn't know what to do and was scared they'd screw up my car.
#6 How to be a parent.
As lovely as an instruction manual sounds, there is no way to write one. There are some basic skills we should possess when entrusted with a tiny human, but most of it has too many variables. I look back at my pre-kid self and laugh at my notions about parenting. I was an idealistic fool!
What didn't you learn in school that you wish you would have?