This family movie night was sponsored through our Phase 4 Films Kaboom! Kids brand ambassadorship.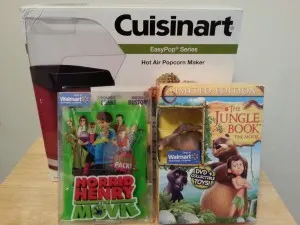 The Perfect Recipe for a Family Movie Night
You just need 3 things for a great family movie night:
Popcorn (ok, snacks for those who don't like popcorn)

Movies
Family
Yes, it really is that simple!
Our family movie nights are getting less hectic and becoming more fun as Rissa learns to sit and watch. Her attention span is getting better, as she showed me with our latest movie viewing. Actually, I think she's paying more attention to movies because I've really restricted her TV viewing over the past month.
Anyway, we love family movie nights, which we have every week or two.
Popcorn is our favorite movie snack. Until recently we either used microwaved popcorn or bought it already popped. I've been wanting my own popper and have fond memories of one from my childhood. So, of course, I was thrilled to receive a hot air popper of my very own (and a bag of organic kernels)!
I asked Rissa to help me make the popcorn. She was excited to scoop out the kernels and pour them into the popper. Unfortunately, she ran off when I turned it on. Silly girl… but she sure came back when it was done.
We received a couple movies to watch from Kaboom! Kids (the dedicated kids and family label of Phase 4 Films):
Horrid Henry: The Movie

The Jungle Book: Rumble in the Jungle
Rissa was not familiar with story lines behind either movie, but that didn't bother her one bit. I hadn't previously heard of the Horrid Henry books, but was familiar with The Jungle Book.
Both were great family movies to watch with positive messages in them. At first I wasn't sure if Horrid Henry was appropriate for Rissa, but despite Henry's mischief, his pranks are quite harmless. He's certainly not the most well-behaved boy, but he did team up with his arch enemy and save the school he seemed intent on destroying. Henry definitely was creative and a problem solver.
I knew Rissa would like The Jungle Book since there are animals in it. The cute toys in the limited edition package didn't hurt either! She loved pointing out the animals to me and giggling while they danced. This one has good messages about friendship.
You can find more information about these titles and more on the Phase 4 Films website. Both of these films are available exclusively at Walmart.
What's your favorite movie night snack?
_______
Disclosure: This post is part of a sponsored campaign as a Brand Ambassador for Phase 4 Films Kaboom! Kids. All opinions shared are my own.