One of the best parts about using cloth diapers is the fabric options. There are so many different looks, colors and textures. I started out with mostly neutral colors and a few "girly" colors and slowly got lured in by prints. It's what makes fluff so addicting to buy! So many cute looking diapers, not enough money. But, at least when you find one you love, you know it'll get used several times – making that purchase worth it.
Here are 5 rockin' prints we have in our stash: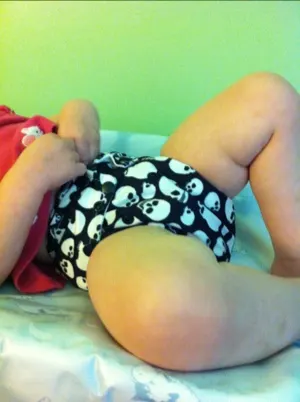 1. Skulls – Neutral – by BumbleBaby (pocket)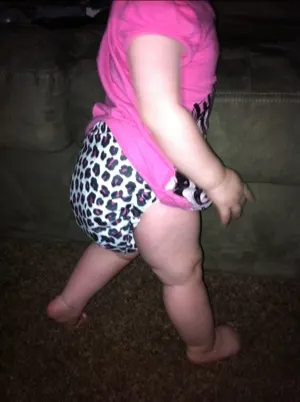 2. Miss Kitty (cheetah print) – girly – Softbums Omni (pocket/cover)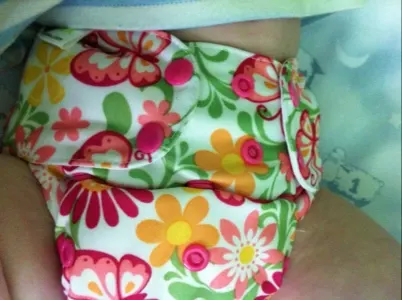 3. Butterflies – girly – Swaddlebees Simplex AIO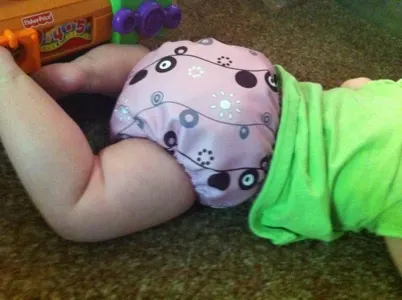 4. Mod Flower – girly – GroVia (All in 2/cover)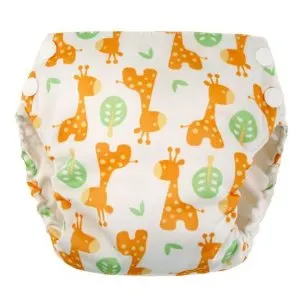 5. Giraffes – neutral – Swaddlebees Simplex AIO (we just ordered it recently!)
Okay so maybe they aren't all rockin', but those skulls certainly are! While these are my top 5 favorite prints in our stash, these aren't necessarily my top 5 favorite diapers for function.
What?
Yes, like shoes sometimes I might pick what looks better than what works better… though rest assured I only use these diapers during the day. I absolutely LOVE the Swaddlebees Simplex and you can read my review on them. I love 'em so much I bought another. The GroVia one is nice for packing the diaper bag and worked better when Rissa was less than a year old. Now she just wets too much at once for this diaper, but if it will be a short amount of time then I can put her in it. We love the Softbums Omni for its versatility, but I don't care for the hook and loop, especially now that my toddler takes those off without a problem. I'm not sure that print is available anymore either, but it's cute!
The BumbleBaby skulls are so cool that I hope I can find another retailer that offers skulls. My hubby gets a kick out of it when Rissa is wearing a girly dress then you see a flash of skulls on her bum. She has other skull attire and is just a fun addition… showing how metal she is while at the playground! The diaper itself is decent for day use. The lining is unlike anything I've used before – it feels sort of like jersey material. I don't really like the insert it comes with but if I double up with one of our others, it can survive a nap. We've had several leaks with it though, but it just looks cool! Not sure you can get them anymore as the company website and social media accounts are all inaccessible. I don't know for sure if they've closed up shop or what.
What are your favorite prints?
______
Disclosure: We received a BumbleBaby diaper to review; no other compensation was provided. We previously have reviewed the other reusable diaper brands as well. All thoughts shared are my own – I love my fluff! There are some affiliate links included to Amazon.