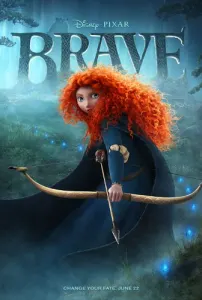 BRAVE
Genre: Animation/Adventure/Comedy
Rating: PG
U.S. Release Date: June 22, 2012
Official Synopsis:
Since ancient times, stories of epic battles and mystical legends have been passed through the generations across the rugged and mysterious Highlands of Scotland. From Disney and Pixar, a new tale joins the lore when the courageous Merida (voice of Kelly Macdonald) confronts tradition and challenges destiny to change her fate.
"Brave" follows the heroic journey of Merida, a skilled archer and headstrong daughter of King Fergus (voice of Billy Connolly) and Queen Elinor (voice of Emma Thompson). Determined to carve her own path in life, Merida defies an age-old custom sacred to the unruly and uproarious lords of the land: massive Lord MacGuffin (voice of Kevin McKidd), surly Lord Macintosh (voice of Craig Ferguson) and cantankerous Lord Dingwall (voice of Robbie Coltrane). Merida's actions inadvertently unleash chaos and fury in the kingdom, and when she turns to an eccentric Witch (voice of Julie Walters) for help, she is granted an ill-fated wish. The ensuing peril forces Merida to harness all of her skills and resources – including her clever and mischievous triplet brothers – to undo a beastly curse before it's too late, discovering the meaning of true bravery.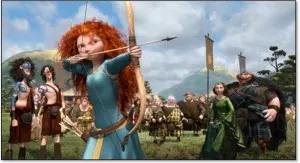 4 Reasons You Should See Brave:
1 – Strong female lead – Merida may be a princess, but she rides a horse, shoots a bow, and climbs treacherous rocks. She is confident in her abilities, is a problem-solver and is pretty brave (seriously!). Merida's mother is also portrayed as a strong leader who is respected by the King and the other clans. I think it's good for little girls and boys to watch positive portrayals of strong, confident women. Too often women (of all ages) are viewed in a negative way if they are strong and assertive.
2 – Amazing detail – The detail in this film is phenomenal! The Scottish scenery is lovely and wow, how they have come a long way on hair. Merida has wild hair that is long with plenty of curls. The texture and movement is realistic. The animal fur looks so real on the bears and horses. It's amazing how realistic animation has become. I saw it all in 3D and it was done very well!
3 – Reinforces the importance of family – We might not always get along, but family is often the center of who we are and who we become. Merida and her mother do not see eye to on on many things, but they love each other. I think the communication issue is commonly seen between teenagers and parents. Both Merida and her mother feel the other is not listening to her. After Merida tries to find a way to change her fate, they get a new chance at communicating and bonding.
4 – Breaks tradition – Merida is not your typical princess and she doesn't want to be. She bumps heads with her mother about this, but in the end, they both are willing to compromise. In doing so, they learn and show others that sometimes changing the rules is the right thing to do.
Other things to consider…
There is a witch and some magic involved in this movie. If this is something that concerns you, I do want to make note that Merida learns that seeking a spell was not the best way to try and solve her problem. This movie is a bit darker than most Pixar movies. We usually think of silly, goofy fun from Pixar, but this movie is deeper with darker threats to Merida and her family. They are still presented without blood and gore, but some of the fighting scenes with the bear may be scary for small children. They also show a lot of fighting/wrestling among the clans, but they aren't showing them as getting seriously hurt.
My recommendation:
Go see it in 3D if you can! It looks amazing in 3D, but will still be worthwhile to see regardless. You know your children best, but I think ages 4 or 5 and up will enjoy it. It has a great message about family and communication that is good for children and parents. I will also say that there was quite a twist neither my husband nor I saw coming based on the trailers. I don't want to spoil anything, but it really made an impact on the story (got my teary a few times too).
_____
Disclosure: I attended a local screening of this movie on June 13, 2012 with press/media passes. I was not obligated to post a positive review. Thoughts shared are my own!
Images used are owned by ©2012 Disney/Pixar. All Rights Reserved.