Last weekend we headed to the Frontier Airline Center in Milwaukee, Wisconsin for three acres of LEGO fun! Here are some of the highlights of our time there: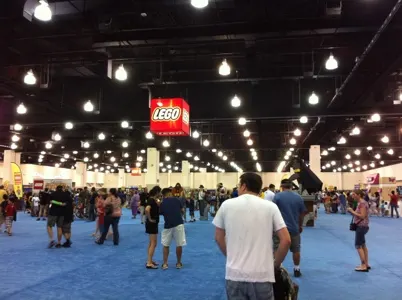 The place was huge and full of families enjoying themselves. We weren't sure where to begin!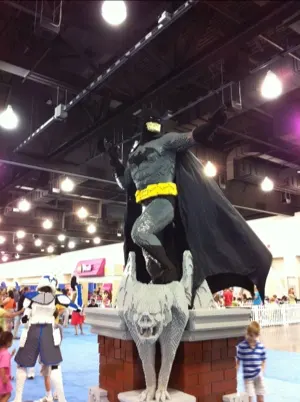 Batman and his gargoyle are made entirely out of LEGO bricks. Absolutely amazing.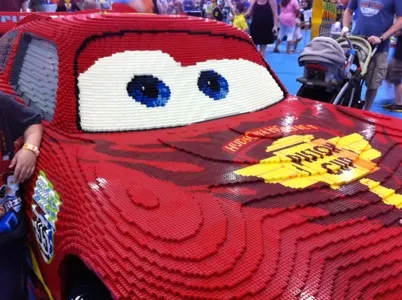 Lightening McQueen from Cars was very impressive.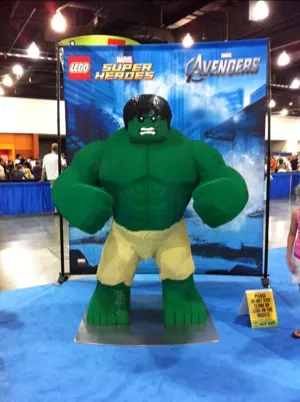 That's a lot of green LEGO bricks! Hulk was a fan favorite – I had a hard time snapping a picture without someone I didn't know standing with him.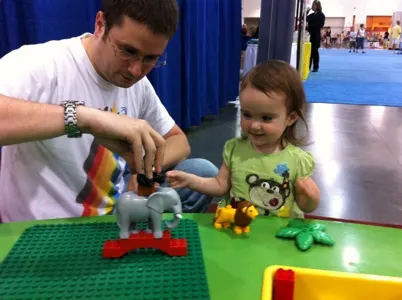 We found the LEGO Duplo area – perfect for toddlers!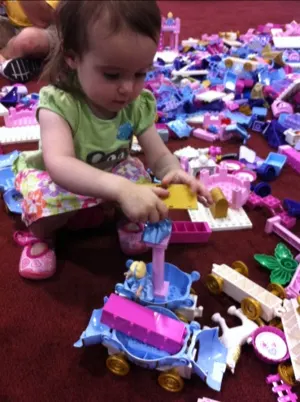 Some people may take an issue with "girly" LEGO options, but my daughter loved the Disney Princess Duplo set. If she was older, she might like the new LEGO Friends too (which are kind of Sim City like if you ask me – different but fun!)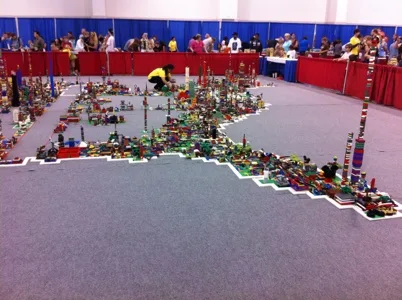 Here's part of the Creation Nation as of Saturday evening.
Here's the completed Creation Nation in Milwaukee 2012.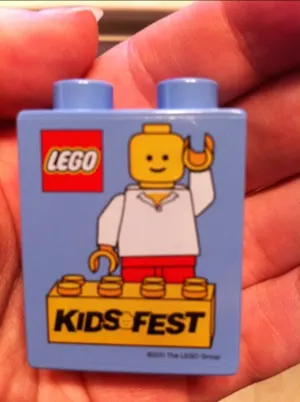 Each of us received our own special souvenir!
I was a little unsure how much fun Rissa would have since she's only a year and a half, but she enjoyed herself! It was her first time playing with LEGO Duplo bricks and she was very happy that we bought her a small Disney Princess set before we left! LEGO KidsFest is definitely a one-of-a-kind experience that is fun for the whole family. I think the ideal age for kids maybe the 6-10 years old range for REALLY getting into all of the activities offered. My husband said if he was 8 years old he'd be in heaven. (He still had fun, of course!)
The ticket price may be tough for some families to swallow at $20 per adult and $18 per child over 3 years of age, but it's a great experience that isn't something you can go to whenever you want. Since it is so unique and offers so much to see and do – it's worth the price. I mean it was pretty cool being able to see so many of their creations – large and small. If Rissa was older and could sit still a bit, we would have loved to attended a Master Builder workshop! I don't have a clue how to start plotting out to build anything too detailed.
LEGO KidsFest is a nationwide tour and has a few more stops yet this year:
Austin, TX: August 31- Sept. 2
Detroit, MI: October 12-14
Pittsburgh, PA: Nov. 30 – Dec 2
Go to http://www.legokidsfest.com for ticket and venue information as well as to sign up for news alerts. Maybe next year they will come to a city near you if they didn't this year!
______
Disclosure: We were provided media passes in order to attend the event; no other compensation was received.