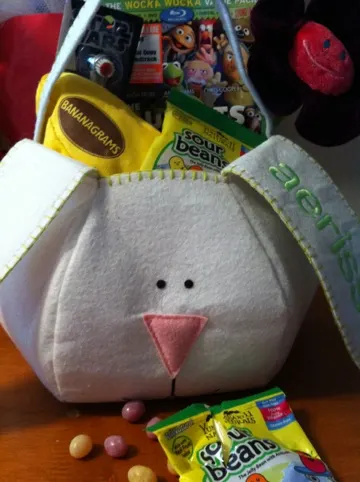 As much as I love chocolate bunnies, robin eggs, and jelly beans, the amount of sugary sweets that fill Easter baskets is slowly nearing Halloween levels. While a few treats in moderation aren't so bad, there is nothing wrong with finding alternative Easter Basket stuffers! Here are some ideas that come without all the sugar!
5 Easter Basket Stuffers
Organic, all natural candy.. There's no need to completely forego sweets in the basket, but there are candy choices that are made without the dyes, chemicals, high fructose corn syrup and artificial flavors such as YumEarth Naturals Sour Beans. Yummy Earth also makes gummy bears, sour worms, and lollipops in 22 flavors with
real fruit extracts.
Toothbrushes! There are so many fun character brushes out now that this is a great time to buy a new one. Maybe Star Wars or Dinosaur Train would bring a smile to your kid's face?
A new movie. There are lots of great Easter themed movies such as Hop, Petter Cottontail, and The VeggieTales The Night Before Easter. Or opt for a fun new release like We Bought a Zoo or The Muppets!
A stuffed animal or another small toy. Stuffed rabbits, ducks and chicks are appropriate. Plush flowers can be fun too. Or, go for the latest Wuggle Pets craze!
Fun educational game or activity. This could be an activity book, coloring book or a game like Bananagrams or Fruitominoes!
More about YumEarth Sour Beans…
We recently received YumEarth Sour Beans to try out. A bag with 10 single serving packets costs less than $6. My husband and I are enjoying them. They are full of fruity flavor and definitely sour!
If you like Sour Patch Kids you will love these! Don't put too many in your mouth at once though or your eyes will be squinting like crazy. I was amazed at the sour power they packed since they aren't very large. These would bit be appropriate for kids under 3 years old due to choking hazard.
What items do you put in your Easter baskets?
_______
Disclosure: This review of YumEarth Sour Beans was made possible by Mom Spark Media. Thoughts are my own.