Not all cloth diapers are created equal. This is a good thing, believe me! But, one feature I've noticed has been a great addition on some is the hip snap. This snap is an extra behind the waist snaps. If you've wondered about an oddly placed third snap (for example) that is a hip snap. It helps prevent the diaper from drooping by keeping the waist connected to the front.
We had a lot of issues with drooping when Rissa was in her newborn and size 1 disposable diapers. Why? Because she was skinny! Only one tab would be fastened to the actual diaper, the other one crossed over and secured on top of the other tab. We have a few cloth diapers that have the same issue. When I first put the Booty Buns one size pocket diaper on my daughter, I missed the hip snaps. I don't know how I didn't see them, but I knew something was wrong when I saw this:
My initial thought was "Oh no, this diaper will NOT do!" I was greatly confused because I'd read that this diaper fits babies from 3lbs all the way up to 45lbs (which is unheard of for a one size diaper!). How could it fit a baby smaller than Rissa if it's falling off of her – and the waist is snapped pretty snug?
Hip snaps.
I later noticed them and had an a-ha! moment. This diaper fits much better when I use them. I can see how the hip snaps make it possible to fit on very tiny babies and preemies too. Hip snaps help keep things in place while the waist snaps tighten it up. When we have fit issues around Rissa's skinny thighs and waist, it's only with diapers that don't have hip snaps or adjustable waist elastic. Not all diapers without hip snaps fall off her, but we have a couple diapers that I dread putting her in because of the droop issue. Not only does it look like crap, it can cause leaks too.
Besides hip snaps, Booty Buns diapers feature double gussets, double pocket openings, suedecloth inner, microfiber terrycloth inserts, cotton flannel liner and a matching cloth wipe.
While I like that it comes with two inserts, a liner, and a wipe, I don't often use cloth liners. It's a nice option though! I use flushable ones on occasion, but whenever I use a cloth liner I forget to wash it separate (due to use of non-cloth safe creams). I just naturally drop it in with the dirty diapers! It did help keep Rissa nice and dry though.
I found this diaper to work well for day use and nap time with both inserts. It is put together well. I can feel a nice quality of thickness and durability in the fabrics used. However, it is not our trimmest diaper nor our cheapest. I found it to be bulkier, probably because it fits up to 45lbs. That is a lot of material to wrap around my girl who weighs less than half that. In comparison to other diapers with similar features, function, fit and quality I find this one to be more pricey. I'm not going to say it's outrageous at $25 plus shipping, but I would not be able to afford many in my stash. Most of our diapers are $20 or less.
One aspect that is pretty cool though is that Booty Buns gives a diaper to a child in need for every diaper sold. Love when companies give back like that!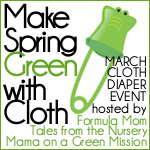 Now, find out how Booty Buns fit on Formula Mom's 30lb+ toddler and how it fit on Mama on a Green Mission's 20 month old and newborn baby!