When looking for Easter basket gift ideas for toddlers and preschoolers, I like to look for as many non-candy Easter basket ideas as possible. For one, little kids don't need a ton of candy. But also because a lot of popular candy options were things I didn't feel comfortable giving a toddler to eat, like small hard candies.
We do include a few sweet treats (see our favorite candy options below) in our kids Easter baskets as well as other things they can use. We think your kids will love these ideas!
For my baby's first Easter basket, we didn't hide it or put much in it. Plus, we knew Grandma was excited to get my daughter something. From two years old and on, we've found a variety of fun Easter basket gifts for both of our children!
Although I love to eat chocolate and candy, I don't want the kids' baskets full of just sugary treats. So, we thought back to the baskets of our childhood and looked around for inspiration. Here are some of the ideas I came up with…
21+ Easter Basket Ideas for Toddlers and Preschoolers
This post contains Amazon affiliate links. This means we may earn a small commission if you make a purchase.
My go-to candy for toddlers and preschoolers is YumEarth organic lollipops. Their line of natural organic candy includes lollipops, sour beans, gummy bears, fruit snacks, and gummy worms. They are free of the top food allergens too, making them safe for us to share with our friends that have food allergies.
Annie's organic bunny crackers are another tasty treat option – and perfect for the holiday too! When filling baskets, we try to avoid using the old school Easter grass. Edible Easter grass makes a fun alternative though!
Little kids LOVE getting new books! A couple cute options include Peppa's Easter Egg Hunt and Llama Llama Easter Egg. They'll have fun snuggling up with you and their new Easter-themed books for story time.
Coloring books, crayons, and finger paints give them a few quieter play options, especially if they got loaded up on sugar first. Check out these craft gift ideas!
Sneak in some learning fun with Hide 'n Squeak Eggs. This toddler toy encourages color and shape recognition. The chicks make a peep-peep sound too!
We like to include a few other indoor toys and games, knowing there will be rainy days ahead. A deck of cards can offer fun with games such has Go Fish and Old Maid. (While our toddler doesn't follow the rules very well, our preschooler is starting to get the hang of playing card and board games.)
The kids can practice their hand-eye coordination with a classic paddle ball toy. (They'll also delight in being allowed to "throw" a ball around in the house without you worrying about them breaking anything.) A few other classic toys include a yo-yo or a slinky.
With the weather warming up, we always include gifts for outdoor play in the kids Easter baskets. Magic bubbles with a bubble machine always brings smiles. Toddlers love to chase and catch bubbles. Pinwheels are fun too!
For preschoolers, a brand new kite they can fly at the local park is a great choice. Get the kids interested in exploring nature by equipping them with a butterfly catcher, such as this Rhode Adventure Planet Bug Catcher set.
Help the kids burn off all that energy with a new jump rope and keep them hopping with their own bouncing hopper ball.
Let their creativity shine with sidewalk chalk. These RoseArt Sidewalk Chalk Paint Shake N Roll Painters look like lots of fun.
If you have toddlers and preschoolers interested in nail polish, we suggest adding Piggy Paint to their Easter baskets! It's water-based and made for younger kids to use.
For virtual sweetness, add Wreck-It Ralph or another movie they would enjoy. Then plan a family movie night!
Who can resist a cuddly new stuffed bunny or chicken? Plush animal toys are easy to find and add to an Easter basket for a toddler. Don't forget a personalized Easter basket to put it all in!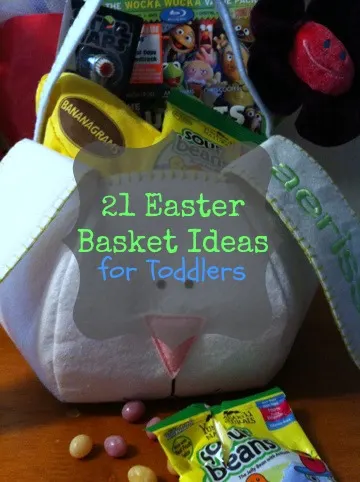 The picture above is the basket I put together for my daughter when she was two years old. Every year, I try to find new ways to include a few practical gift items, such as a toothbrush. (They will need it after eating candy!) We have scaled back the amount of Easter candy we give them and so far there have been no complaints!
What do you put in your toddler's Easter basket?
Don't miss our other Easter posts!