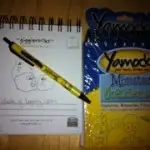 The 12 Days of Gifts Galore giveaway event is going on now and ends today (December 6th)! Be sure to enter to win a prize from this event sponsor!
Yamodo is a hot game this holiday season (there aren't many left in stock on Amazon!). It's a game of fun and creativity. You are only limited by your own imagination! You can play with others (which is way more fun) or play solo if you are feeling so inspired. Basically you are given a made up word and you have to draw it AND define it.
It's like Win, Lose, or Draw meets Balderdash meets Telephone.
If you are playing alone it's more like a combination of the first two, but if you are playing it as a group, then you only get to draw and define PART of it! The next person adds to it and so on. The next person might be thinking like you and maybe not. I personally freeze up a lot trying to come up with the initial drawing and definition. I do much better when adding onto someone else's creation.
Hilarity ensues!
There is Yamodo Party Time which is a larger game set, but there are also smaller travel sized ones with themes. We received two theme sets. The aliens and monsters leave it open to all sorts of craziness!
Where to buy: Amazon and Barnes & Noble
______
FTC Disclosure: I received the product(s) mentioned above free of charge by the company or PR representative in order to conduct an honest review. I was not compensated in any other way for this post. The thoughts, experiences, and opinions included are entirely my own and may differ from that of others. I am not liable for any issues you may incur from use of said product(s). Images used are owned by me or provided with the company's permission unless otherwise sourced. See full disclosure information. If you have any questions you can contact me or leave a comment.