The 12 Days of Gifts Galore giveaway event is going on now and ends today (December 6th)! Be sure to enter to win a prize from this event sponsor!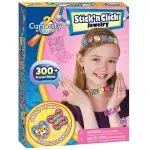 The Orb Factory is a Canadian company that offers fun and unique activities for kids without a big mess! They pride themselves on having quality items and excellent customer service. Their kits offer fun ways to peel and stick sparkly foam pieces and the jewel stickers. Some kits like the Sticky Mosaics, are stick by number. Kids learn about following directions and patterns as they work to cover all the numbers.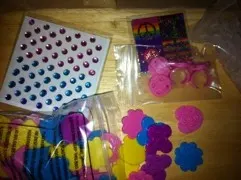 Stick'n Click supplies!
What's really neat this holiday season are the Stick'n Click jewelry making kits! There is a pair of slip on earrings and rings included as well as pieces to make bracelets and necklaces. They decide the pattern of the pieces and decorate how they want to. The jewelry kit (as most of their kits) are intended for children ages 5 and up.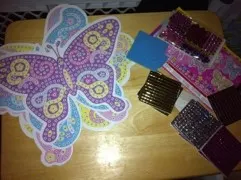 I think these kits are a great idea and very affordable. There's no glue or glitter making a mess. The stickers are sparkly and fun and can be removed if they are stuck on the wrong place (like your walls). Let your little girl's imagination go wild! We received a Stick'n Click kit and a butterfly mosaic set. I'm looking forward to completing the butterflies and putting them up in her room. Rissa is too young to help me with these projects yet (she'd just put the pieces in her mouth! And no, I don't think I'm too old… though I felt like my fine motor skills weren't up to par. Maneuvering the sticky foam pieces can be tricky for me. But, smaller, nimbler fingers probably wouldn't have much of an issue!
______
FTC Disclosure: I received the product(s) mentioned above free of charge by the company or PR representative in order to conduct an honest review. I was not compensated in any other way for this post. The thoughts, experiences, and opinions included are entirely my own and may differ from that of others. I am not liable for any issues you may incur from use of said product(s). Images used are owned by me or provided with the company's permission unless otherwise sourced. See full disclosure information. If you have any questions you can contact me or leave a comment.