My mother used to make meatballs at home every so often, a recipe from her mother, I hated them. Hate is a strong word but that is how I felt about them. Now, after playing around with the recipe, I love them. Hubby recently told me that they now top his favourites list of foods I make.
• ½ cup rice
• ½ cup beef broth or water
• 1 ½ lbs ground beef (or other ground meat)
• 3 medium sized carrots – shredded
• Medium sized onion – chopped
• 1 egg
• 2 tsp worcestershire sauce
Mix all together very well, nothing like biting into a meatball that is more rice, onion and carrot than meat. I have used other veggies such as green beans as well. This is a great way to sneak in some extra veggies. Form balls, I use a ice cream scoop, and place into a casserole dish.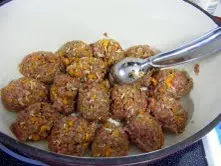 • 3 tbsp sugar
• 2 ½ tbsp white vinegar
• 2 tbsp mustard
• ½ – ¾ cup ketchup
These are really rough measurements. I pour, dump and squeeze amounts into a bowl, though I do add them in the order listed. Mix in some ketchup, stir; if sauce isn't red, add more. I always taste test, you can add more sugar or ketchup to suit your taste. Pour slowly over your meatballs.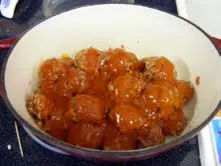 Bake at 350 for 45 minutes covered. Uncover and bake for 15 minutes.