From the creators of How to Train Your Dragon comes this double DVD and online game: Dragons Gift of the Night Fury and Book of Dragons.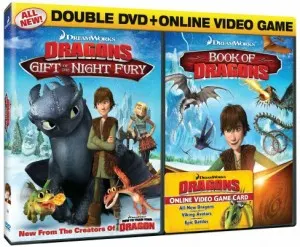 Snoggletog has come to Burke, the Vikings' holiday. As they prepare to celebrate, everyone's dragons leave unexpectedly. Toothless was the only one that didn't leave since he can't fly without Hiccup operating his tail. Once Hiccup gifts Toothless with an upgraded tail that he can use by himself, he leaves too. The village is sad that their dragons are gone and they don't know if they'll be back. Hiccup finds out why they left when he hitches a ride on a dragon that his friend was trying to keep chained up.
We really loved the original How to Train Your Dragon, so I was excited to see another one. I didn't realize it wasn't a full feature movie though (I had wondered why I never heard of a sequel!), rather than a short feature. Regardless, I thought it was cute, just short! It's not quite a half hour long, but it kept my daughter's attention the whole time. The Book of Dragons short shares the legend of the book as Hiccup and his friends worked on updating it with training information. The book is the key to finding new dragons!
I'm glad Jay continued to voice Hiccup. I could tell some of the others had different voice actors but Hiccup wouldn't have been the same otherwise! There was also a very cool sneak peek at the How to Train Your Dragon Arena Spectacular coming in 2012. It looks amazing and I'm hoping it comes through our area!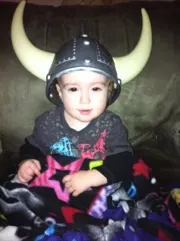 One of the best parts of all was getting into character, watching it with our Viking helmets, popcorn and s'mores! Though we didn't have a dragon to help roast the marshmallows, we made due! We also received an amazing book: The Art of DreamWorks How To Train Your Dragon. We love art books like this. They are great for the coffee table and so neat to look through.
Available in either a Double DVD + Online Video Game Pack or a Blu-ray & DVD + Online Video Game Pack, DREAMWORKS DRAGONS is now available for as low as $14.99 and $19.99 respectively, making it an ideal and affordable holiday gift for aspiring dragon trainers and all fans of enchanting epic adventure.
The DREAMWORKS DRAGONS Double DVD + Online Video Game Pack includes the following:
Disc 1:
• DreamWorks Dragons: Gift of the Night Fury
• Gobber's Training Secrets
• Deleted Scenes
• Spot the Difference
• Learn How to Draw a Baby Gronckle
• How to Host a Snoggletog Party (DVD-ROM)
• Previews
• World of DreamWorks Animation
Disc 2:
• DreamWorks: Book of Dragons
• Dragon Lair (DVD-ROM)
o Your Book of Dragons
o 3-D Land of the Dragons
Plus:
• Dragons Online Video Game—The ultimate interactive Dragons challenge! Once you've learned all the insider training secrets in the Book of Dragons, you're ready to use your exclusive game card to gain access to this all-new, high-quality video game:
o Create your own Viking avatar
o Learn to train Dragons
o Fight epic dragon battles
• 14 battle arenas
• 8 Dragon lairs
• 4 legend games
o Challenge the Dragons you loved in the film
o Discover and battle seven never-before-seen Dragons
o Earn training and battle badges
______
FTC Disclosure: I received the product(s) mentioned above free of charge by the company or PR representative in order to conduct an honest review. I was not compensated in any other way for this post. The thoughts, experiences, and opinions included are entirely my own and may differ from that of others. I am not liable for any issues you may incur from use of said product(s). Images used are owned by me or provided with the company's permission unless otherwise sourced. See full disclosure information. If you have any questions you can contact me or leave a comment.