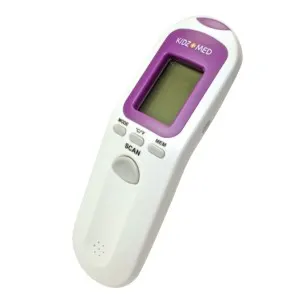 Is your kid as wiggly as mine? Taking her temperature is not my definition of fun. I refuse to use a rectal thermometer because that is just too unpleasant, especially if she won't hold still. Goodness, I feel bad for my cats when we're at the vet and they are getting their temperature taken. It just seems so… intrusive. When we don't feel well, we don't want to be prodded any more than necessary.
I've attempted to take Rissa's temperature under the arm, but she doesn't hold still well for that either. Using an ear thermometer is not recommended with babies because their ear canals are still developing. She certainly can't do under the tongue yet. So, I've checked out other options! I previously reviewed a temporal scanner thermometer and now a NO CONTACT one.
What?
No contact? At all? Could it get any easier to take a kid's temperature?
With the KidzMed Veratemp No Contact Thermometer it is super easy to take temperature readings!
Features:
No need to touch, startle, upset or wake your child completely touch free!
Pediatrician recommended
Proven accuracy
Safe, hygienic and easy to use
Instant reading: measures temperature in the time it takes you to press the button!
Back-lit LED display, take temperature in the dark while child is sleeping
No probe covers needed
Multi-Use: measures any temperature including core body temperature, nursery, bath, formula, food
Celsius or Fahrenheit
Affordable
It really is the easiest thing I've ever done. I press the scan button, choose which mode and make sure it's on Fahrenheit and ta-da! I don't have to wait, I just press scan and the temperature is there! I usually choose the mode before hitting scan to make sure it's right the first time. You can choose body, room, etc. Veratemp is versatile – you can use it to check your kid's temperature or even the temperature of their bath water! I don't always trust the elbow test, y'know? And I like to check food temperatures too for safety. It even comes with a little cheat sheet for normal body temperature ranges based on age!
I took my temperature and Rissa's several times and the readings were similar. It also had the room temperature spot on with the thermostat. When taking body temperature, it's best to move hair out of the way and make sure there isn't any perspiration as these can alter the results. The only issue I had with my Veratemp is that the two batteries that came with it were dead. I installed them and couldn't figure out why it wasn't turning on. I put in new batteries we bought recently and it turned on right away without a problem.
Where to buy: Order on Amazon ARV $39.99
______
FTC Disclosure: I received the product(s) mentioned above free of charge by the company or PR representative in order to conduct an honest review. I was not compensated in any other way for this post. The thoughts, experiences, and opinions included are entirely my own and may differ from that of others. I am not liable for any issues you may incur from use of said product(s). Images used are owned by me or provided with the company's permission unless otherwise sourced. See full disclosure information. If you have any questions you can contact me or leave a comment.