Sometimes I can't believe the things my daughter says to me, better yet, I can't believe some of the things that come out of my mouth. Taken out of context many things I say to my toddler sounds very, very strange. I wish I kept better track of some of the more hilarious ones… like when she's dawdling and blocking my way to the bathroom. Being pregnant it's much harder to hold my bladder when I really have to go. I've been known to warn my daughter to move or she might get peed on…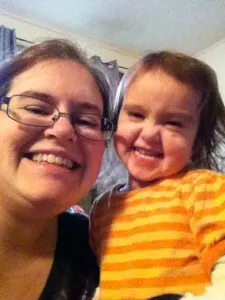 Here are 10 things I've said to my daughter that you might not have ever said to your kids….
You smell like a rubber giraffe.
Please don't put your toys in my pants.
You can't stand in the window without a diaper on!
Don't touch the cat's butt.
Get your foot out of the cat's water!
We don't spit on people, only in the sink.
No you don't make mama milk until you are older and have your own baby.
Don't touch me with your peanut butter hands!
Please take my underwear off of your head, it's not a hat or a necklace.
Stop licking the couch!
What's something you've told your kids that you don't think another mom has said to hers?
Bonus forgotten one – "No dancing on tables!"