I've been a long time fan of T-Fal cookware. It's really the only brand name cookware that I've owned. Sure, I've bought some miscellaneous pots and pans here and there, but I couldn't tell you what company made them. While I'm no expert on cookware, my experience with T-Fal has been nice quality at an affordable price.
We recently received the opportunity to try out a couple pieces that I think would make great gifts for college students/grads, singles, and as stocking stuffers: one egg wonder pan and mini-grilled cheese griddle. Actually, these would have been great for me as a teenager even! (And yay for dishwasher safe!)
While our family is growing, sometimes we aren't all eating the same thing. It's certainly rare for us all to have breakfast together at the same time (unless we are eating it for dinner), so something like the one egg wonder pan can come in handy for us. It's a very small little nonstick pan that is perfect for frying up one egg. The handle is heat resistant, but the pan heats up fast. I would keep the burner low-medium.
Due to the small shape it cooks up a nicely shaped egg – round with thicker whites. I've gotten so used to our egg whites spreading out in our larger pans and being too thin. This one makes eggs perfect for topping off sandwiches or burgers! Overall I know this particular pan won't see a ton of use in our home simply because we rarely make only one egg. Since it's so quick though, I'd probably use it if we're just making a couple.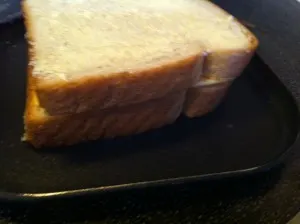 The mini-grilled cheese griddle, on the other hand, has already seen plenty of use. Grilled cheese is one of my favorite comfort foods and is a quick and easy lunch solution. Brian usually makes them and found this griddle to speed up the process a bit. Each side grilled up a nice golden, brown and was quite even. We like not having to dirty up a larger pan to make grilled sandwiches and not having to worry about getting the cheese on the side of a pan either!
I usually stay away from cookware that is really only designed for one purpose, because I know it will limit my use for it. However, the mini-grilled cheese griddle is great if you make them as often as we do!
Do you have a favorite specialty pan?
______
Disclosure: We received the above products for review purposes. No other compensation was received.