Recently I received a double stroller to review – the Joovy Caboose Too Ultralight. I'm a wee bit obsessed with strollers so you can imagine my excitement to try this one out. I can't help it, I love baby gear!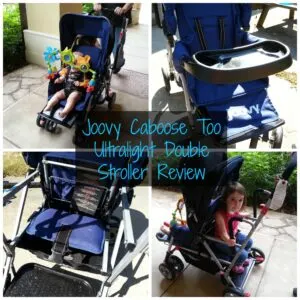 We have several single strollers that each have great features, but I none that roll all of the best into one. I've been wanting to use a tandem stroller, but a little nervous about the upgrade. I don't want to lug around a heavier, bulkier stroller. I don't want to feel like I'm in the way because of how long or wide it is, but I want an easier way to get around with two small children.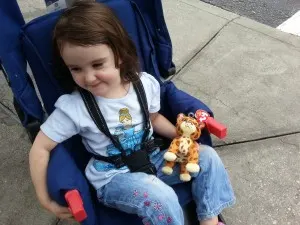 The Joovy Caboose Too Ultralight arrived shortly before our trip to Universal Studios in Florida and we put it to the ultimate test – traveling. That's right, this one didn't get off easy with just a few walks around town. No, this one was used in airports, at theme parks, the hotel, AND around town. And guess what? I love the dang thing.

(video)
Why I love it
Easy to fold/unfold – not really one handed, but it's not as complex as some of our strollers
Not too heavy (21-23 pounds with/without second seat)
Easy to steer
Decent storage
Fits two kids up to max of 90 lbs
Can use infant carrier, one seat/bench, one seat/stand, or two seats
Straps are easy to adjust
Not too wide or too long
I think what I love the most is that it's very much like using a single stroller, except both of my kids fit on it. Sure, it's a little longer but it doesn't feel like the front seat is a mile in front of me. I do wish there was an option to have the kids face each other because they would have a lot of fun that way, but otherwise this stroller really met our needs. When I was wearing Xander, Rissa would sit in the front giving us additional storage on the back. This worked great in the airport because we could squeeze two carry on bags on the back bench plus hang a bag across the handle bar.
That stroller really worked hard for us in the airports plus all the mileage of walking from the hotel down to the theme parks… through the parks… I just wish it hadn't gotten banged up already from being gate checked. I am going to look for a better fitting bag to put it in next time, I think. Though I'm not sure how much of a pain that will be when I'm by myself. Still, I don't want it getting wrecked already!
This stroller is a little pricier compared to our other strollers, but it should get a lot of use. Heck, even if you only have one baby and think you might have another, you might want to just get this one. Seriously. Because… well.. I think I'm retiring two or three strollers now. This thing folds up more compact than our travel system strollers and doesn't take up much space in the trunk either.
I definitely recommend this stroller! It did have some assembly but most of that was easy. We really haven't had any complaints about it other than wishing I could turn the seat around. And I wish it was easier to access the storage underneath when both kids are on it, but usually I could wait until Rissa was off the back.
What do you look for in a double stroller?
Wondering where to buy? Order a Caboose Too Ultralight on Joovy's website.
Disclosure: We received this stroller to review.