When you grow up in a family that society doesn't consider to be "normal" you may wonder if there is anyone else like you. It often comes as a surprise that there are indeed People Like Us.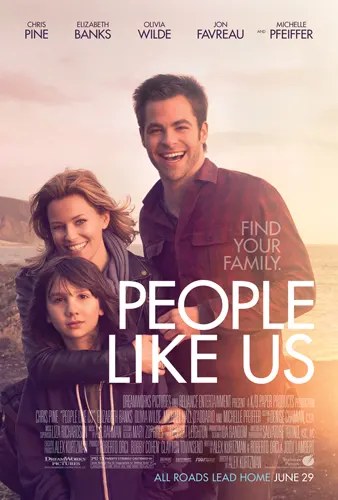 Initially I looked forward to seeing Chris Pine (he's a cutie and I liked him in Star Trek) and Elizabeth Banks (she's pretty and funny in Zack and Miri and a few other comedy roles) but didn't expect such phenomenal acting. I figured it'd be "okay" but not moving. I was pleasantly surprised!
At the start of the film, we meet Sam (Pine) who's a young hot shot driven by money but kind of a jerk. He gets into a jam when a business deal goes wrong (and violates a few laws) and is in desperate need of money to make things right. As he struggles to save his job, he finds out his father has died. His girlfriend expects him to be upset and fly across the country to be with his mother for the funeral.
However, Sam doesn't think much of his father. When they arrive, the tension between him and his mother paints a broader picture. Sam hasn't been home in years. Then a bombshell is dropped on him… His dad wants him to deliver a large sum of cash to a half-sister he never knew existed.
I expected Sam to take the money and run even though I knew there wouldn't be much of a movie of that happened!
As he gets to know his sister and her son, Sam grows into a more mature man and eventually realizes his father wasn't the man he thought he was. As for his sister Frankie (Banks), it was amazing to watch how she tried her hardest as a working single mother despite all the crap life dealt her.
My favorite scene is how she deals with the principal after Josh blew up the school's swimming pool:

I really related to this movie. My own family is a bit different and there have been times I disliked family members and there's been drama. Over the years things have changed – we've all changed – and most barriers are overcome. The end scene with Sam and Frankie (I won't give it away!) brought tears to my eyes…tears of happiness and hope. It was such a touching moment and gave them (and me) a new perspective on their father.
Most importantly, it reinforced the importance I have for my family. I won't call this a "feel good" movie exactly, but it shows a real, plausible, modern family situation. It gives hope that people can make the best of their situation and choose to embrace it rather than fight it. I wish I could better describe why I love this movie so much, but it's really hard for me to put into words. It's a movie that made me feel something in my heart.
Are you going to see it?
"Like" PEOPLE LIKE US on Facebook: http://facebook.com/peoplelikeus and follow on Twitter: https://twitter.com/#!/ppllikeusmovie
PEOPLE LIKE US hits theaters everywhere on June 29, 2012!
______
Disclosure: I screened this movie while on my media trip with Disney/Marvel in NYC. I was not compensated for this post and the thoughts shared are my own honest opinion.