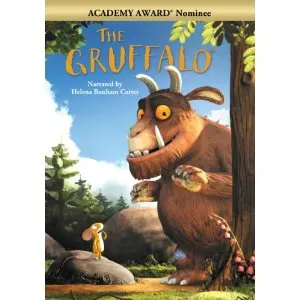 The beloved children's picture book The Gruffalo comes to life on screen for your family to enjoy! While my family is not familiar with the picture book we quickly fell in love with the story. Following a little mouse whose looking for food and finds himself in quite the bind with 3 different animals who find him to be the tasty meal. With his quick imagination the mouse thinks up an imaginary monster to protect himself.
My son whose 14 months old loved the animation in the video, he quickly took to the likeness of real grass and trees! I was so amazed that for the full 40 minutes my son was mesmerized, usually his attention is gone within 15 minutes. I was even captivated by the lovely story line and watching the cute little brown mouse go onto his journey of creating the "Gruffalo" . Throughout each encounter we find the mouse adding more and more to his friend the Gruffalo, making him a scary monster to protect him. But how will the mouse act when he actually meets his Gruffalo he made up?
Beautifully narrated by Helena Bonham Carter and done in adorable rhyming story line. The Academy Award nominee short film has wonderful background music and animal sounds that got my son's feet moving and grooving.He pointed and shouted each time the Gruffalo showed up on screen. And at the end he was so happy to see the Gruffalo and the little brown mouse together he came over and hugged me. This beautiful animated short film for every child to enjoy and the story is one that your family will easily fall in love with.
Ashleigh blogs at Living Off Love and Coffee where she writes about beauty, parenting and hosts giveaways!