It's been really interesting to see how Rissa has gone from sort of staring at whatever I put on the TV to actually having preferences in what she watches. She has her favorites that she'll watch over and over again (much to my dismay – if she watches it repeatedly that means I do too). Most of her viewing is done via Netflix or Vudu, but she sure gets excited when new DVDs arrive at our house. Soon I hope she will tell you what she thinks of her shows herself!
Since we recently received several new DVDs, I thought we'd do a little round up of what new shows she's been watching recently.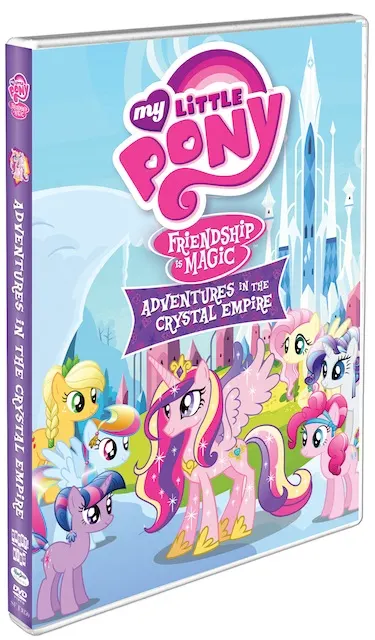 My Little Pony Friendship is Magic: Adventures in the Crystal Empire
The Crystal Empire, Part 1
The Crystal Empire, Part 2
Sonic Rainboom
Luna Eclipsed
It's About Time
Lately Rissa hasn't been as interested in sitting down and watching My Little Pony. I still enjoy watching them because the stories are well written. I believe she'll come around to the show again because she still loves her My Little Pony toys and underwear. Pinkie Pie has become her favorite! The episodes included on this DVD are from all three seasons. I think Sonic Rainboom is my favorite out of these, though there is time travel in It's About Time!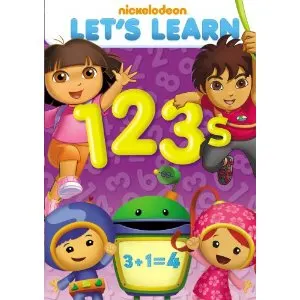 Team Umizoomi: "Counting Comet"
Team Umizoomi: "Super Soap!"
Dora the Explorer: "Pepe's School Day Adventure"
Blue's Clues: "Numbers Everywhere!"
Go, Diego, Go!: "Three Little Condors"
Wonder Pets: "Save the Old White Mouse (A/B)"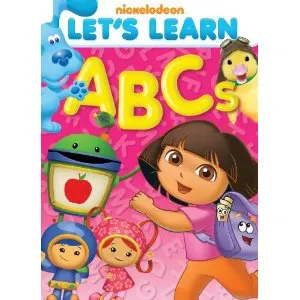 Team Umizoomi: "To The Library"
Dora The Explorer: "ABC Animals"
Blue's Clues: "Blue's ABC's"
Go, Diego, Go!: "Linda the Librarian"
Ni Hao, Kai-Lan: "Kai-Lan's Big Play"
Wonder Pets: "Save Humpty Dumpty"
Wonder Pets: "Save the Itsy Bitsy Spider"
Rissa has really developed a love for Dora and Boots. She asks to watch the show and likes to wear Dora apparel. (Oh and let's not forget her Dora toothbrush!) Pretty much anything that comes out with Dora she is interested in. Lately Rissa's interest in learning her letters has increased. She asks to play games that involve her identifying the alphabet and words that start with those letters. She's also been asking to watch shows that focus on ABCs. I love observing her as she responds to the prompts in Dora shows. The cutest thing ever is when Rissa will say to me (when NOT watching anything): "Count with me, mama!" She's also developed an interest in Blue's Clues, so the only episodes she wants to watch are Dora, Diego and Blue!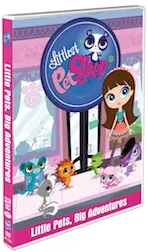 The Littlest Pet Shop: Little Pets, Big Adventures
Blythe's Big Adventure – Parts 1 & 2
Bad Hair Day
Gailbreak!
Penny For Your Laughs
Rissa's first exposure to The Littlest Pet Shop was the Happy Meal toys several months back. I wasn't sure if she would like the show, but when the DVD arrived she asked to watch it. She refers to it as "watch the skunk." I'm not sure why she's focused on the skunk (other than having the toy) so much! Personally I thought it was pretty cute. Brian didn't care to watch it, but it was better than I thought it would be. The music is decent and it is entertaining even if I think the basic premise is a little odd. You never quite know what you'll get when a show is tied in with a line of toys. The first two episodes I liked because it started off with creative brainstorming to save the pet shop!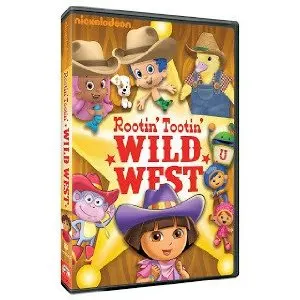 Bubble Guppies – "The Cowgirl Parade"
Team Umizoomi – "Shooting Star!"
Dora the Explorer – "Pinto, The Pony Express"
The Fresh Beat Band – "Hip Hop Hoedown"
Go, Diego, Go! – "The Great Roadrunner Race"
The Wonder Pets! – "Save the Pony Express"
The Wonder Pets! – "Help the Groundhog!"
Rissa's preferences were very evident while watching this DVD. She was interested in checking it out and seeing everyone dressed up as cowboys. First she wanted to watch the Bubble Guppies episode, then Dora, then Diego. She didn't want anything to do with The Fresh Beat Band, Team Umizoomi and Wonder Pets. When they came on she gave me a funny look and said, "Rissa no like." I couldn't help but laugh as I skipped to the next one. This girl is getting particular!
Well, there you have it. I hope we've helped you in figuring out which ones your kiddo might enjoy!
____
Disclosure: We received the above DVDs to review.