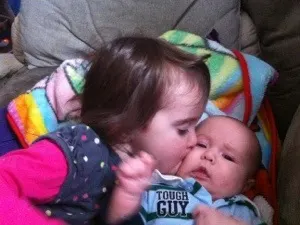 Love, love, love. Are you sick of it yet this week? I hope not because we have a little more coming at you today. I wanted to do a cute little video sharing sweet sentiments of my undying love for my husband and my kids. Instead we got this…
I asked Rissa what she loved about her daddy.

(Rissa's video)
Then I tried to answer a prompt….
6 Things I Love About My Valentines…
I was on the spot (I put myself there) but tried to come up with reasons I love Rissa and Brian. Unfortunately, Xander was left out (minus a brief cameo). I totally love him but I forgot to say it. Oops.
(video)
For a better list of why I love my husband you can check out part one of us becoming a couple. And to see how much I love both kiddos…well, just follow the blog and my social media accounts. You'll see!
What do you love about your Valentine?