Watching movies with my daughter is getting more fun. She's able to sit still longer and shows more interest in stories and characters. I wasn't sure what she would think about Peter Pan, but knew she liked Tinker Bell. Though I forgot how bratty Tink is in Peter Pan! I've grown so used to her sweet disposition in the Disney Fairy movies, like Secret of the Wings.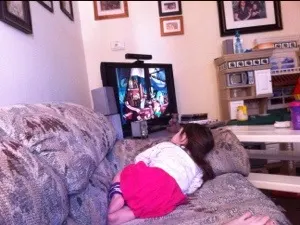 Right away she was interested in the movie (though about halfway she got restless….not too surprising). Silly girl thought the dog's name was Banana instead of Nana. She kept giggling about banana dog.
Once she saw Captain Hook and the Lost Boys she started talking about her LeapPad. I'd forgotten she has a Jake and the Neverland Pirates game!
It was really fun rewatching Peter Pan. I haven't seen this version in several years. Growing up isn't all bad, but I'm still young at heart!
The diamond edition bluray DVD combo is pretty awesome. The picture and sound has been digitally remastered and looks great. It has fun intermission scenes when you pause it too.
As always the bonus features offer extended entertainment with an alternate ending, deleted scenes, songs and more. There is also a storybook app with coloring pages, puzzles, and games available for the iPad, iPhone and iPod touch. (We also have free printable Peter Pan activities too!)