Today we're taking Rissa to the zoo for the first time which should be fun! I can't wait to see how she reacts to seeing all the animals. Since we'll be there for a good chunk of the day, I know I need to pack some food for babygirl. I'll definitely be taking one or two pouches of GoGo SqueeZ!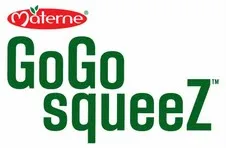 Baby food in a pouch is all the rave nowadays. I've had curious onlookers ask me about it. They seem amazed at it! They are easy to pack for travel, less messy, and seems to be safer packaging for baby. Materne, the makers of GoGo SqueeZ applesauce, is a French company. They introduced their popular no spoon, no mess applesauce pouches to the US in 2008. I hadn't heard about them until recently. I'm glad I found them!
Each pouch is the equivalent of 1 fruit serving. They have a few different flavors: appleapple, applestrawberry, applepeach, applecinnamon, and applebanana. It is all fruit. Yup 100%! No artificial sugars or flavors added either. No preservatives! The pouches have about a year shelf life unopened. They don't need to be refrigerated before eating, but need to be after opening – if you leave any behind! Oh, and they are dairy-free, gluten-free, and kosher certified.
I received appleapple and applestrawberry to review. I was a little confused by the directions that say to use quickly after opening and to refrigerate. I'm guessing use within 24 hours after opening (if refrigerated) is still okay. When they arrived we were on our way out to dinner. I grabbed a spoon and a pouch of appleapple and tossed them in the diaper bag.
Although they are marketed as no spoon, no mess due to the built in straw, I spoon fed appleapple to Rissa at the restaurant. She doesn't care for that much since I usually let her feed herself, but we couldn't make a huge mess while out! It was easy to squeeze out as I needed and it tasted like good applesauce! Next time we tried applestrawberry, which was also delicious. I tasted more strawberry than apple but it was definitely applesauce texture!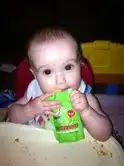 I have let Rissa progress with these pouches. I would squeeze some on her spoon and let her feed herself. I've squirted it out onto her tray and let her scoop and slurp. I've squirted it into her mouth. Now she pretty much does it herself! Sometimes she has trouble aiming the straw into her mouth and squirts it out everywhere. But if I hold it in place, she can suck it out with little problem now! Whatever she leaves behind, I finish up!
I'm so glad to see that they are sold in stores in my area (Walmart and Costco)! We'll be getting more!
Connect with them on www.GoGosqueeZ.com, @gogosqueez, and on Facebook!
_____
** FTC Disclosure: I received the product(s) mentioned above free of charge by the company or PR representative in order to conduct an honest review. I was not compensated in any other way for this post. The thoughts, experiences, and opinions included are entirely my own and may differ from that of others. I am not liable for any issues you may incur from use of said product(s). Images used are owned by me or provided with the company's permission unless otherwise sourced. See full disclosure information. If you have any questions you can contact me or leave a comment.