Baby #2 continues to grow. I think my belly has stalled for now. It ballooned out when my uterus remembered what it's like being preggo, but I think further expansion will wait until baby runs out of space. Seems like I'm carrying high again. Or at least it's my upper abdomen that always rounds out, but my lower pooch doesn't. How I wish I could have a basketball belly!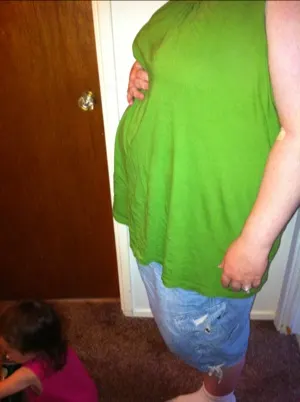 OB update! I went in for my monthly check up a couple days ago. I only gained a pound which is hard to believe! Since I'm a heavier girl in the first place this is totally okay and makes my doctor and I happy! It's one thing to actively try and lose weight while preggo, it's another when it just progresses that way without trying. We heard baby's heartbeat again and my OB said she could hear baby moving around. I'm feeling movement more often and started feeling rolling sensations the other night. Guess this one plans on being active like Rissa was (and still is)!
What are we having? We don't know yet! I have to schedule my ultrasound to take place in about 4 weeks. Before then we will take a look at some prediction tests. Then, once we know we will change the background color on the blog! Purple for girl, blue for boy. It's currently pink but maybe we should go green for now… Only thing that I'm disappointed about is that they won't let Rissa attend even with my hubby there. I might have to go alone then since it's hard to find someone to watch her during the day for Brian to come with. :(
Warding off the GD… Since I was diagnosed early with gestational diabetes last time, we wanted to keep an eye on things, of course. My OB seems pretty confident that I might not get it again or at least not early. I did the one hour glucose screening test the other day, but haven't heard the results yet. No news is good news, right?
Did you find out what you were having?