Can't stop singing~ can't stop singing… I now have some new songs stuck in my head for a few days thanks to Elmo. You see, Abby left her wand behind and Elmo found it. He really wanted everyone to keep singing with him so when he discovered he could use the wand to cast music spells he slowly got everyone singing. The only problem was, they couldn't stop no matter how hard they tried. Elmo no longer felt happy about making everyone sing once he realized that some people really didn't want to keep singing all the time. He couldn't undo the spell on his own though, he needed to return the wand back to Abby.
But before the show began, we checked out the Play Zone, which was free to access with our tickets. A long section of the BMO Harris Bradley Center (around by section 220) was set up with various character cutouts perfect for photo opportunities. We tried to get a few, which was fun, but it was so busy that it was hard to really enjoy it. There weren't any real lines or any sort of organization for taking turns. I wanted to get a picture of Rissa on the Sesame Street stairs, but that was the busiest spot of all and I don't like to be rude and just charge up in front when I can tell others are trying to be courteous about taking turns. Still, we got a couple cute shots quickly where we could.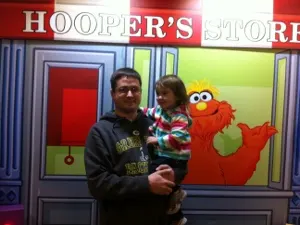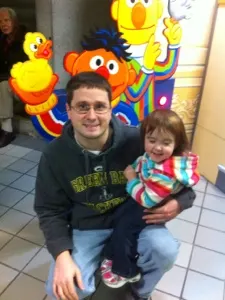 Then we made our way to our seats about fifteen minutes before show time. We attended the first of six Sesame Street Live: Can't Stop Singing shows in Milwaukee (it continues through 11/25/12, get ticket and show time information here) at the BMO Harris Bradley Center. Our seats were pretty decent, giving us a straight on view. I told Brian we were close enough for Rissa to easily see the characters but far enough away that they wouldn't frighten her. That made it perfect for us!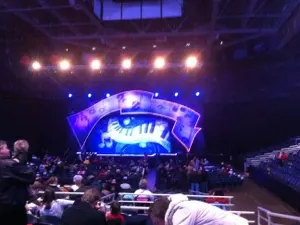 Once the show started, we were taken into a live episode of Sesame Street but with live characters and lots more singing. There was a word on the street, letter of the day, and number of the day. They started strong with the theme song and kept the music going throughout the show. Rissa was very excited during the opening numbers as she pointed out the characters she knew. There are several new ones that Brian and I didn't grow up with, but we know all the classic characters. Rissa's favorite character is Ernie. She was very excited when he made his appearance with Bert!
The show was a bit long for our toddler though. Sesame Street Live is put together with 1-5 year olds in mind, but some kids may find it difficult to stay for the whole show. Rissa did really well throughout the first half, but her attention span continued to deteriorate after intermission. We ended up needing to leave early so we missed the end. The last part we saw was Abby singing with Mr. Hoots about the magic inside of her just after Elmo left to go look for Abby. We didn't know the songs (other than the theme song) so Rissa couldn't really sing along, but she danced during a few of the numbers. It was hard for her to sit still, but not a whole lot of room in the row for her to stand and dance either.
Overall the show was a lot of fun. The dance numbers looked good, the sound was great – we had NO trouble hearing the singing or talking, and the lighting wasn't overwhelming. Scene changes flowed quite well too, despite Rissa asking me what happened or where someone or something went. It's a unique treat for kids to see their favorite shows and characters come alive on stage!
_____
Disclosure: We received ticket vouchers to attend Sesame Street Live for our help in promoting the show. All thoughts shared are our honest opinions.