Earlier this summer we went to a friend's backyard BBQ and their son had a Little Tikes basketball hoop. We were a little surprised at how much Rissa wanted to play with it. Not that there's anything wrong with her playing basketball, it's just that there were a lot of other toys too! She's really been into playing "kick and catch" with us, so I guess it was only a matter of time that she wanted to progress to the next level, right?
Rissa does pretty well throwing various sized balls. In fact, she has kind of a wicked arm. She's not ready to go pro or anything, but her aim seems pretty good and she can whip it hard! (I should know, it often hits me right in the baby bump.) Her kicking is pretty decent too. She'll even run up to a moving ball and try to kick it. Catching still eludes her though.
Amazingly, she doesn't mind getting hit with a ball though. In fact, she will crouch down, close her eyes, and ASK you to throw it AT her. Goalie in training? I tell ya, she's braver than I am. I've always been one of those not-so-athletically-inclined types that sooner ducks when a ball comes sailing my way. Yeah, I suck at sports. So maybe Rissa won't and that'd be awesome.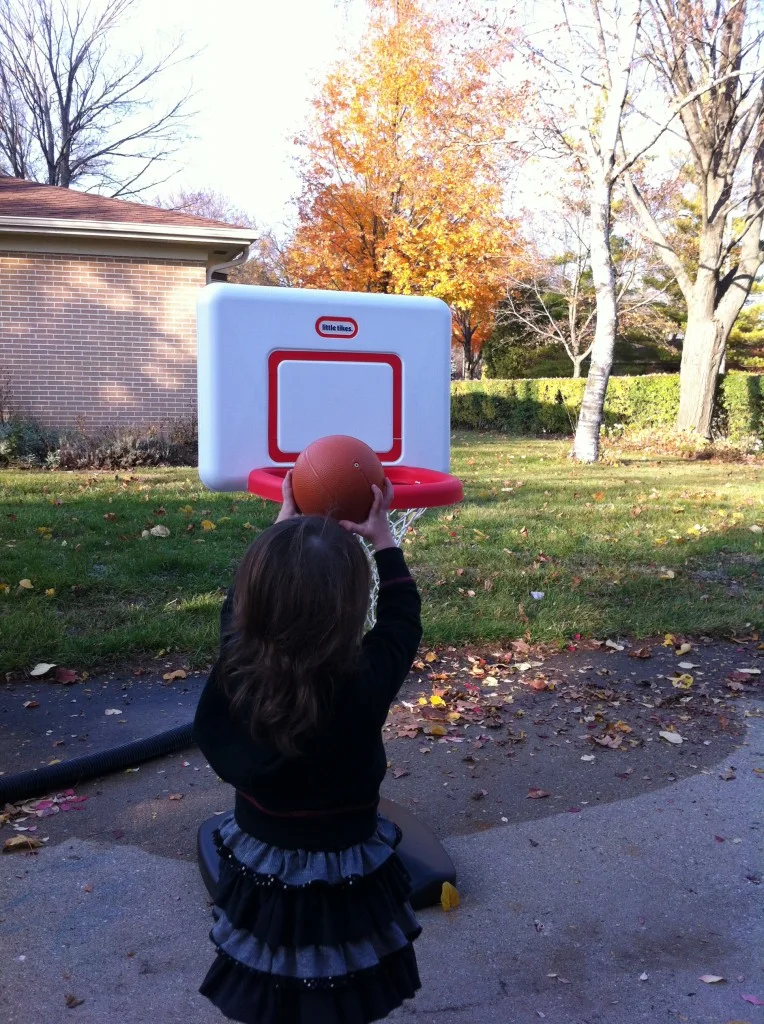 When I received the opportunity to get the Little Tikes Tot Sports Easy Score Basketball I knew we should get it for her. Unfortunately we can only use it outside for a limited amount of time each year, but once the playroom gets built in the basement, she can play with it year round. It adjusts to 6 heights from 2 ½ to 4 feet making it an ideal toy for a growing and active toddler. (Great for ages 1.5 through 5 years!) Plus, it will be something that her baby brother can play with when he gets older too. I see this hoop getting a lot of use! We still need to get sand to weight the bottom, but since Rissa isn't much of a dunker, we are okay right now.
It's definitely a good way for her to develop coordination and motor skills as she throws the ball at the basketball. As you can see in this video though, she also thinks it's fun to put other things into the net like leaves…
Assembly is easy overall, but I did find the hoop hard to snap in. I required hubby's help since I just couldn't get it to click. The rest wasn't so bad, but the only instructions were on the back of the box. So keep that in mind when you are opening it (i.e. don't ruin them!).
How do your kids work on developing motor skills and coordination in sports?
_____
Disclosure: We received this toy for review. No other compensation was received. Post contains an Amazon affiliate link. Thanks!