The other day I was stressed out and feeling a little low so I did what needed to be done…. I stepped back and enjoyed my daughter. I play with her everyday but let's be honest, my head isn't always 100% in it. Heck, sometimes I am multitasking with my phone.
But, we need quality, uninterrupted time together too… Like we had as we got to know each other.
Again, my daughter proceeded to amaze me. Not because she herself is amazing or extraordinary. I'm not going to gush about her uniqueness. But just the amazement of BABIES. Watching them learn and imitate. It's rather fascinating, don't you think?
Rissa had already slid off my lap after a nursing session and was playing with her toys in the middle of the living room. I closed my laptop, set down my phone, and slid out of my chair and onto the floor. Quietly I observed.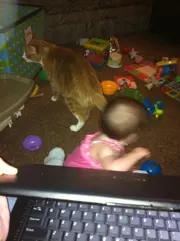 She was repeatedly taking one cup out of the other and clinking them against each other. She moved a water bottle over each cup, tapping it against them. She babbled as she waved her arms in the air, her little body bopping up and down as though jumping while sitting.
She picked up her little dolly and babbled, tilting her side to side and shaking her around. They appeared to be dancing!
I watched as she repeatedly put things inside others, bang them against other toys, scratch them, shake them, and even tried to pull and rip them apart.
While I think she's still too young for "pretend play" (I don't really know) I could tell she was examining how things worked, how they fit together, and was imitating things she saw ME do with her toys.
It was adorable and I knew where I belonged.
Though, it didn't take long before she came over to climb on me. After all, I'm the coolest toy she plays with!