Snickerdoodles are one of my husband's favorite cookies and it appears to be a reader favorite as well. Light, buttery, sweet, and just a bit of crisp. Mmm, yum. I love just about any cookie, but I thoroughly enjoyed the Snickerdoodles I made yesterday. Good stuff, I tell ya. Good stuff. The classic plain Snickerdoodle is yummy as is the Snickerdoodle Blossom (with a Hershey's Kiss in the center). But how about dusting the top with hot chocolate powder upon removal from the oven? Or adding an M&M or three?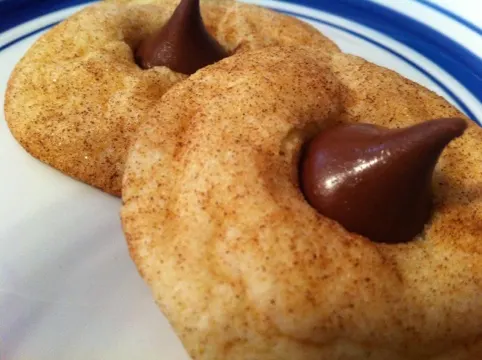 I told you I was going to use the M&M's Sweet Sayings for something!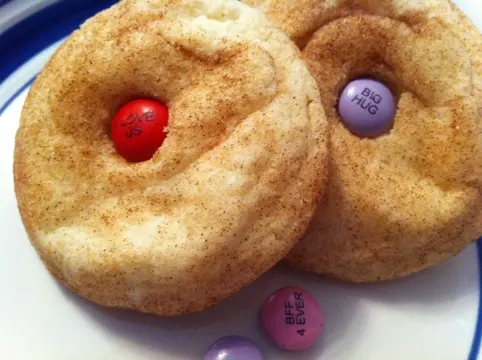 I used a real time saver in making these – store bought mix. After the holidays, lots of goodies were on sale, such as pouches of Betty Crocker's Snickerdoodle mix. I prepared everything as instructed.
You could use a mix too or your own favorite recipe for plain cookie dough. I formed teaspoon sized balls which were dipped and rolled around in a cinnamon sugar mixture before being placed on the cookie sheet.
I baked them for about 10 minutes at 350 degrees Fahrenheit. Then, when I took them out, I pressed the candies into their centers. Then let them finish cooling!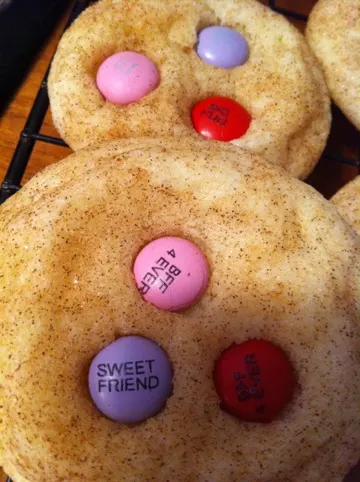 I need a better way to evenly sprinkle powdered cocoa over my cookies. I wasn't sure how well this would turn out but it was quite delicious!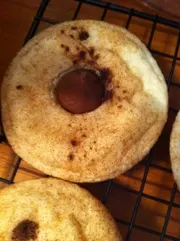 What other ways would you decorate these for Valentine's Day?