I found some awesome (new?) M&M's candies the other day. They might be exclusive to Target. I've never seen these before and I had to get them!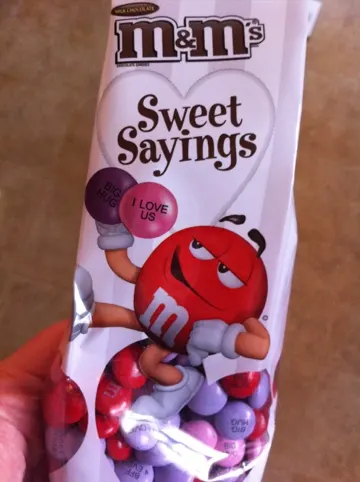 M&Ms Sweet Sayings are sold in 7 ounce bags with assorted colors and phrases on them. The bag I bought has pink, red, and purple ones. There was another bag with a different color set that reminded me more of Christmas than Valentine's. They are a bit expensive (nearly $5 where I bought them) compared to regular M&Ms and Sweethearts.
I don't know about you, but I don't like the candy conversation hearts because I think they taste like chalk. But I think the messages are fun so these M&M Sweet Sayings are like the best of both worlds in my opinion: chocolate and cute messages!
I am now planning to make a thing or two with them. Even though I didn't have to get them, I had to buy them when I discovered them!