Have you ever made silly voices and pretended to make your dog talk? (Please tell me I'm not the only one who does that!)
Whether or not you make your dog talk, I have an adorable book to share with you. It's perfect for dog loving kids and dog lovers of all ages.
We received a cute personalized dog gift set from I See Me! in order to check it out for ourselves. This post contains affiliate links which means we will earn a commission (at no extra cost to you) if you make a purchase.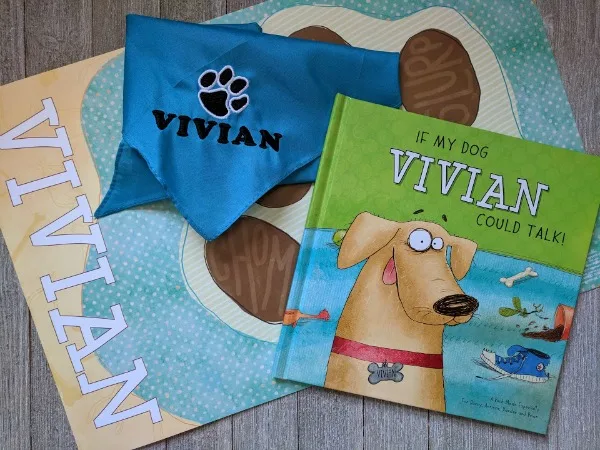 Totally Pawsome Personalized Book for Dog Loving Kids
Before I tell you more about this customized book gift set, I want to say how much I love that I See Me! is partnering with different animal shelters to help support them as they promote this new personalized dog gift set. Through January 31, 2018, they are partnering with the Wisconsin Humane Society.
Get 10% off your purchase with the code WHS10 and support the Wisconsin Humane Society at the same time! This code is good on the dog gift set as well as any of their other personalized products. I See Me! has a wonderful selection of personalized children's books so you are sure to find the perfect gift.
My son and I shared this gift set and read the story on Facebook Live. You can watch the replay below!
It was very easy to personalize the book for our furry family member. There are several dog body types and fur colors to choose from. While they aren't an exact match for every breed, I was able to find one that looked similar enough to our pup. I included our dog's name, our names, and a couple pictures of our dog.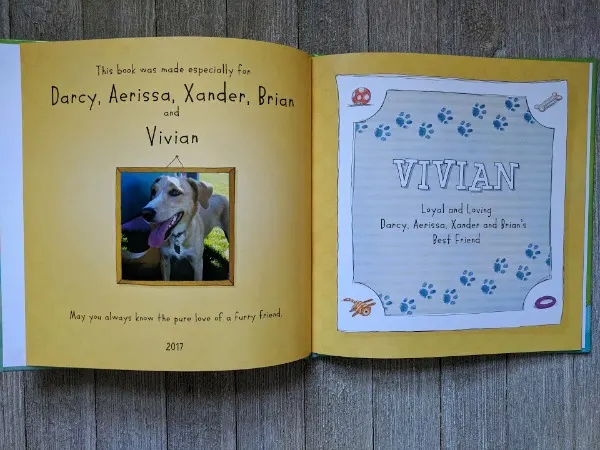 Using that information, they create a high quality book that features personalization throughout the book – in text and in illustrations. My kids thought it was awesome to see their names in the story as well as our dog's name.
For anyone who has ever wondered what their dog would say if they could talk, this story was simply cute and sweet. The kids thought it was quite silly!
You can choose to order just the book about your dog or a loved one's dog or get the gift set. The dog gift set also comes with a personalized placemat for your pup's food and water bowls and a personalized bandanna. I wish Vivian would let us dress her up because it would look great and make a wonderful photo opp!
I found the cutest personalized storybook for kids who love dogs!
Who do you know that loves their dog and would appreciate this personalized dog gift set? Click here to order a personalized dog storybook for your kids using WHS10 at checkout through January 31, 2018 for 10% off!

You may also enjoy these posts about dogs and pets: