Do you remember when you had to wait a week in between the episodes of your favorite shows? I do, but my kids won't. They are growing up in an ever changing digitized on demand world.
I still make her wait until "later" sometimes, but it's not the same. When we run out of episodes she just starts them over. If a show she asks to watch isn't available she thinks I can find it for her.
Besides knowing her way around Netflix, she has a growing collection of DVDs. It's one of our favorite things to review! Since we have reduced the amount of items coming in, packages don't arrive as often anymore. When they come now, they usually contain a movie or show. Rissa gets super excited to open them up!
Here are the latest DVDs we've received to review – all linked to Amazon for easy ordering with our referral link.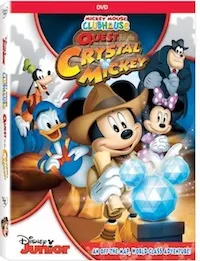 MICKEY MOUSE CLUBHOUSE: THE QUEST FOR CRYSTAL MICKEY
When the legendary Crystal Mickey goes missing, Mickey and friends go on an adventure to save the Clubhouse from losing its magic. Pete steals the Crystal Mickey, which makes things in the Clubhouse start to disappear. If they don't work together to find it in time, the Clubhouse will be gone for good. This DVD also contains a few other episodes bringing you a total of 2 hours of entertainment.
Rissa gets into singing along and responding to Mickey and the gang. She kept asking me what happened when things began fading away. She really emjoyed the episode "Goofy's Coconutty Monkey" since coconuts is one of her favorite silly words right now. Everything is coconuts!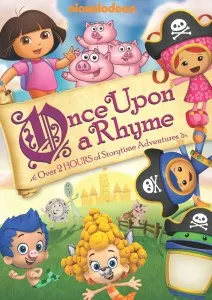 Nickelodeon Favorites: Once Upon A Rhyme
Some of Rissa's favorite characters from Bubble Guppies, Team Umizoomi, Dora the Explorer, The Fresh Beat Band, The Wonder Pets! and Blue's Clues star in this all-new 2 hour DVD that features the most popular and beloved nursery rhymes. This was a pretty good compilation DVD. Though, whenever Rissa and I recite Humpty Dumpty now, she tells me Dora will fix him! While Rissa likes Blues Clues, she was not too sure about Blue's Room. We'll see if it grows on her or not.
2 hours of summer fun with the Bubble Guppies!
The Beach Ball!
The Legend of Pinkfoot
Bring on the Bugs
The Sizzling Scampinis!
Gup, Gup, and Away!
The episodes Rissa talks about the most are The Legend of Pinkfoot and Bring on the Bugs. Since her buddy Muno likes bugs, they always get her attention. Plus there was that recent encounter with a bee. Anyway, she thinks "Pinkfoot" is silly. I've been turned into "Pinkmommy" and "Bluemommy" since then. Also, these summer episodes are getting her really excited for swim lessons again this year.
Dora the Explorer: Dora Rocks!
This DVD has 3 episodes that last for just over an hour total. Benny forgets to send his Sing-along Party invitations, Dora and Boots bring their microphone to Benny's Barn so they can call their friends to join them at the rockin' fiesta! Join Dora in her special pop-star outfit to sing a special song with all her friends at the sing-along! After that, keep rocking with two more musical adventures helping Dora bring Baby Bongo to his first music show and meeting Map's nephew, Little Map.
Rissa loved this DVD. Dora and lots of singing was right up her alley. She grabs her own mircophone to sing along (and asks me to join as well). It was fun meeting Little Map. I never would have guessed there was a family of them or that they needed to practice their drawings. It's a cute episode.
Now that Rissa is counting, she is more interested in this show. This one combined animals with it so she really liked it. There's counting, shapes, measuring, and patterns. She pretty much stood in front of the TV the whole time to watch this!