My heartbeat quickened in my chest as I read the words Tahlia posted on our Facebook page: Yo Gabba Gabba is missing from Netflix.
No, this cannot be! Why would they pull it? What is the meaning of this? It must be a mistake.
But it is true.
And it's not just Yo Gabba Gabba that's missing….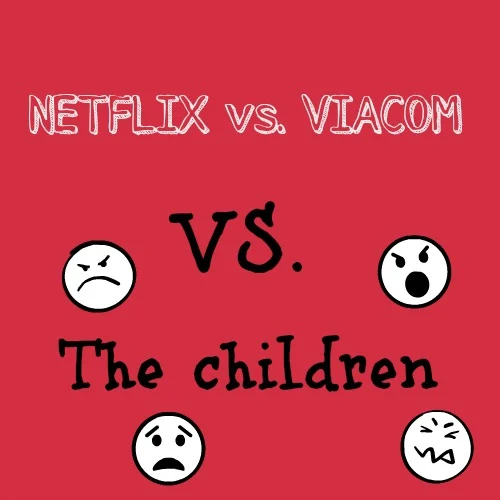 Dear Netflix & Viacom,
I received troubling news the other day that I didn't want to believe. However, the evidence was right there on my television screen. My daughter asked to watch one of her favorite shows, but it was not there.
I scrolled and searched.
She cried.
I could not find it.
No Yo Gabba Gabba, no Dora, no Diego, and no Blue's Clues.
Her top 4 shows – gone with nary a warning.
I know I've joked about the annoyance of listening to Dora for hours at a time, but those shows kept her the most entertained AND helped her learn. Most of the other options in the Netflix kids section are… well… not up to par.
We routinely act out episodes and sing the songs. Those shows have helped my daughter with learning to count (in English and Spanish), animal facts, following directions, and various other life lessons. I can only imagine the amount of tantrums this change has caused across the country.
So why? Why have these shows been ripped away from preschoolers? Who's to blame? Netflix? Viacom?
At Netflix, we program for our members, we are selective about what titles we add to the service and what content agreements we renew. Since we can't license everything and also keep our prices low, we look for shows and movies that deliver the highest member engagement relative to its cost. We also put a big premium on exclusivity. For this reason, we have decided not to renew our Viacom content including the Nickelodeon titles.
And really… Netflix, the excuse you gave to Toledo News Now read like this to me:
Blah blah blah Netflix is cheap and Viacom is greedy blah blah blah
Sounds like BOTH of you have positioned yourselves as bad guys in this scenario. It's a no-win situation. You should have hired a couple toddlers to work your negotiations. They are pros at that shit!
Just think of all that marketing to kids opportunities that vanished, Viacom. My daughter wouldn't have developed her deep seated love for Yo Gabba Gabba and the other Nick Jr shows and thereby getting lots of merch bought for her… like the new character shirts I got her just a few days ago.. the two sets of YGG beanies we own (the first set are so well loved they have no eyes).
Now my daughter is kind of feeling like an eyeless Brobee.
There's nothing sadder than that. Oh wait…
Please, reconsider working together. Think of the children and the parents that live with them. Cuz right now, the only way I know how to explain corporate contracts to a 2 year old is to tell her that you clearly hate children.
Sincerely,
Darcy – a sometimes frazzled crappy mom who uses Netflix to entertain her kid.
P.S. That was a bit harsh, but this is probably my biggest first world problem right now.
P.P.S. You are lucky you brought back Arrested Development otherwise I'd threaten cancellation. That and my husband isn't as bothered by this as I am (he gets to escape every day) and the account is in his name.
P.P.P.S. All joking aside – it does suck. Thankfully we bought newer episodes of YGG on Vudu.com, have access through Amazon Prime (though it it not as user friendly), and some shows are available right on Nick Jr's site. Oh and all those DVDs we've received and bought. But still.