Since the changes on Netflix and lots of Rissa's previously favorite sites being removed, she's been watching more DVDs. We still aren't very fond of Amazon Instant and some stuff that was free switched to paid and it's just not as kid friendly for navigation. Of course she had found some new shows on Netflix that she loves like Jake and the Neverland Pirates and Super Why.
Boy do those have catchy tunes or what? And I thought Yo Gabba Gabba songs were catchy. Right now, as I write this, I have the theme song for Jake stuck in my head. It hasn't been on the tv in DAYS. Maybe a week?
Anyway, here are a few of the DVDs we recently received to review: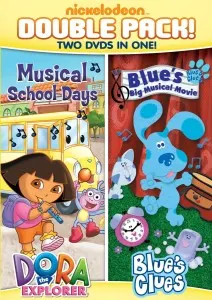 Dora & Blue's Clues Double Feature: Dora's Musical School Days and Blue's Big Musical Movie
This two disc set has been a real hit. Besides being beloved characters in our home, Rissa loves the songs. I've caught her dancing and singing along. One of her cute yet slightly annoying habits though is to ask me repeatedly ask me what happened… even if she's already seen it 10 times. We've been using shows like this to work on memory recall. Available on Amazon (affiliate)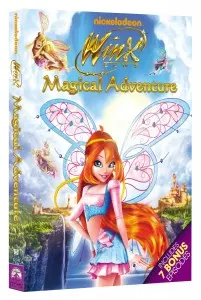 Winx Club: Magical Adventure (movie plus bonus episodes from season 5)
Though she's become terrified of bugs lately she still loves fairies even though they have wings and fly around too. While I say this show is more for older girls Rissa likes it. She likes seeing the fairies but doesn't seem to pay much attention to their storyline. Brian said he doesn't care for it much (he got to watch it with her one afternoon). Not sure if this will continue to be watched around here or not. (Rissa has asked and watched it about 3 times already so she'll probably win, haha!) Available on Amazon (affiliate)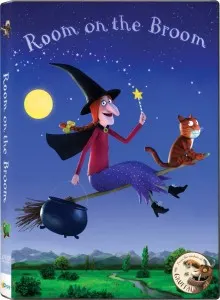 Room on the Broom
This movie is based on a cute children's book of the same name. There are a few well known actors lending their voices to it. The movie stays pretty true to being an animated version of the book. Rissa really likes the book (witches are very Halloweeny after all!) but got scared near the end of the movie when the Dragon was being naughty. She asked for it to be turned off and wasn't very happy. After turning it off and taking together she was happy again.
In the story a witch and her cat start off flying around on her broom. Her hat falls off and they meet a dog who wants to ride the broom too when they look for the hat. Along the way they meet new friends and work together to save the witch from the dragon. Available on Amazon (affiliate)
What's your kiddo watching three days?
(Disclosure: The above DVDs were received for review purposes. This post contains affiliate links.)