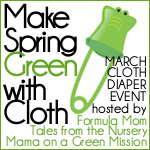 When I started cloth diapering my daughter, I figured everything would be pretty easy once we got into it. For the most part it has been easy… Well, easier than I initially thought it would be. However, I learned I cannot just find a routine and be done with it. Oh no, it keeps changing on me! There are 3 challenges I faced while cloth diapering a toddler. Challenges I didn't really think about until they were happening!
The Challenges of Cloth Diapering a Toddler
This post contains affiliate links.
Number 1 – Heavy Wetter
I rarely had issues with leaks until after Rissa was a year old. She started leaking more because she was wetting more at once. I thought I had our nighttime diapers figured out for the best absorbency and fit, but she went and changed all that! Her absorbency needs grew. Even during the day I started doubling up inserts. One small one wasn't enough to keep her dry anymore. I had to develop a new overnight system with new, more absorbent and trimmer options like Thirsties hemp inserts and Knickernappies LoopyDo hemp blend inserts.
It's taken some trial and error to figure it out again. The funny thing is, whenever the next baby comes, I'll have to figure it out all over again!
Number 2 – Poo poo
I miss breastmilk poo. Seriously! It was a sickly sweet smell like buttermilk and it easily rinsed out of the diapers in the washing machine without extra work from me. But then my daughter started to eat solid foods. And did that ever bring the stink. Oh yuck, some days I wonder what she ate because it smells like an old man dropped a deuce in the nursery. I know it's a waste product but does it have to stink up the whole house? This child will even say "uck" as she bears down in the middle if the living room to fill her diaper up.
At least now that she's mostly eating solids it is easier to clean up. The transitional poop was the worst. Still mushy from breastmilk, but heavier and stickier from solids. Those required using the diaper sprayer and sometimes disposable liners. Though, of course, she has a knack for going when I wouldn't put a liner in! With mostly solids the smell has gotten worse, but she's forming turds now! I was happy when she consistently pooped them out because they are much easier to knock into the toilet. Strange how this becomes everyday stuff in the life of a mom, huh?
Number 3 – Take It Off!
Lastly, Rissa has been trying to take off her diaper. She never really tried until after she started walking. I don't know what it is about running around diaper-free, but she loves it. I have to laugh when I find her running and climbing with a diaper half hanging off… Laugh then search for wet spots! I can hardly use hook and loop (Velcro) diapers anymore because she just rips those tabs open. She seems to like the noise too. For awhile, putting a diaper cover (like bloomers) or onesie over it helped. But, it didn't take long before she started undoing them through the fabric.
Classy.
My love for snaps has grown! Only a few with weaker snaps are all she can open now. She tries and can get frustrated that it's not working, but I noticed she doesn't try all that often. Our side snapping diapers like BottomBumpers and Knickernappies seem to be the best deterrents!
The next challenge I have coming up will be potty learning and using cloth training pants. It's an experience I'm nervous about!
What challenges do you face with cloth diapering a toddler?