It's unbelievable just how important a good, supportive bra can be. It really can make a world of difference on my back! Whether you are breastfeeding or are a full figured gal like myself, you probably know how hard it can be to find quality, affordable bras that look nice! I'd like to introduce you to Leading Lady!
Leading Lady is the preeminent source for information, dialogue, guidance and product selection among both nursing and full-figured women. LeadingLady.com is a vibrant, on-line community of like-minded women who appreciate style, fit and quality.

• Amy's Corner – Questions answered by a our Certified Lactation Consultant

• Breastfeeding A-Z – Breastfeeding instructions, tips, glossary and everything else you need to know about nursing.

• Perfect Fit Calculator – Simple and easy tool to find the perfect bra fit.

• Free Breastfeeding Handbook – Our lactation consultant written and approved Breastfeeding Handbook is available free for instant download.

Leading Lady is one of the country's oldest and most successful intimate apparel manufacturers. We specialize in quality lingerie for mothers-to-be and new moms, as well as full-figure bras, sleep/leisure bras and other specialty lingerie and accessories.
Since I am still nursing I chose the Baby Sees It Cotton Wirefree Nursing Bra. This is one of their best seller's and I can see why!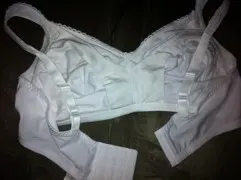 The sling has patterns on it to stimulate baby's vision while nursing. I thought it might entertain Rissa since she's easily distracted. She isn't super interested, but does point at them sometimes. I do think this is a great idea for newborns who are very focused on looking at mom while eating! Either way, I thought it added a bit of hidden fun to my bra.
One of the other things I love about this bra is the adjustable cups! There are 3 hooks for the cup flap. My milk supply is stable now so my size doesn't change much anymore, but wow! This would have been soooo helpful in the early days. I remember being amazed at how large my breasts got when my milk came in and how they would change size until my supply stabilized. Being able to adjust the cups a little would have kept me comfortable!
I really like this bra and it has become my favorite. I've been washing and wearing it for going on almost two months now. It is standing up to the use! Neither the band nor the straps dig in. My only issue is the rehooking the flaps can be awkward one handed since they are the same style as the back of the bra. I am able to manage though! I've worn this bra and nursed at home as well as in public. If their nursing bras are this great, I bet their full figure bras are too. And goodness am I hard on bras (normally) for some reason! I think I'll be ordering one once I transition out of the nursing bra.
Giveaway!
Win a $15 discount code with free shipping! (All orders over $75 have free shipping)
To enter, please fill out the Rafflecopter form below. Comments will not count as official entries. Duplicates will be removed.




______
FTC Disclosure: I received the product(s) mentioned above free of charge by the company or PR representative in order to conduct an honest review. I was not compensated in any other way for this post. The thoughts, experiences, and opinions included are entirely my own and may differ from that of others. I am not liable for any issues you may incur from use of said product(s). Images used are owned by me or provided with the company's permission unless otherwise sourced. See full disclosure information. If you have any questions you can contact me or leave a comment.