When we have parties we like snacky food we can graze on throughout the night. I'm a big fan of dips when it comes to grazing, especially easy to make ones. Ones I can pretty much make on the fly like this taco dip recipe I found on Pinterest.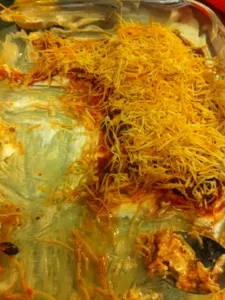 It was so good I barely got a picture of it before it was all gone!
So as I mentioned before, I found this recipe on Pinterest and made it for our New Year's Eve party. It's A Little North of Crazy's Nacho Dip Recipe. I tend to think of melted cheese as part of nachos so I think of this as more like a taco dip.
Super Easy Taco Dip Recipe
This post contains affiliate links
Ingredients:
1 package of cream cheese (8oz), softened
1 cup of sour cream
½ tbsp taco seasoning
1 jar of salsa (I used black bean corn salsa)
1 ½ c of shredded cheese (I used a nacho/Mexican blend)
Directions:
Mix the softened cream cheese, sour cream, and taco seasoning together. Spread this mixture over the bottom of a 13×9 glass baking dish.
Pour salsa over the cream cheese layer. I used a spatula to spread everything evenly.
Add shredded cheese to the top.
Chill or serve with chips and pretzels. Voila! Done. Easy and yummy!
If you make this super easy taco dip recipe, I guarantee your guests will eat it faster than you can fill the chip bowls. It's incredibly good and always a hit when we make it!
More easy recipes you may like: