I know, I know, I know. It's early January when many of us are trying to make healthy changes. I swear I am not trying to sabotage anyone's progress with this crockpot nut cluster recipe! While it's super easy to make I don't expect to make it all the time…just special occasions.
I'm a sucker for sweets and am on indulgence overdose after my second pregnancy. You know, because I could finally eat whatever I wanted just before going back on limitations. These clusters are very tasty and hard to stop at just one (unless you make them huge like I did lol).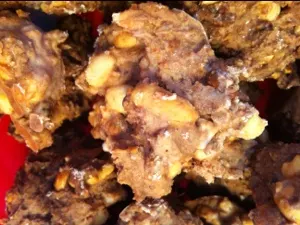 I swear it's impossible to take a picture of these that looks good…
Crock Pot Nut Clusters Recipe
The original recipe calls for all peanuts but I decided to substitute cashews for half the peanuts. Unfortunately, many of my cashews burned! So be warned (though they still tasted good even with a touch of burnt flavor lol).
Ingredients:
2 packages of Almond Bark (32oz total)
1 pkg butterscotch chips
1 pkg white chocolate chips
1 pkg semi sweet morsels
16oz salted peanuts
16oz cashews
Directions:
Add nuts to bottom of your crock pot.
Add all the chips then broken pieces of Almond Bark.
Heat on low for 2hrs then stir. You made need an additional 30 mins to ensure the bark is melted.
Once it is melted, scoop out spoonfuls of the gooey mixture onto wax paper.
Let cool and harden for about an hour. No need to freeze!
Recipe adapted from Christmas Crockpot Candy Recipe from Messy Thrilling Life.