The clothing featured in these photographs was provided by Mamas & Papas.
Time moves differently when you become a mom, at least it does for me. The days often feel long (especially on rough days) and blur together in their sameness. Yet at the same time it all goes by so fast. I'm totally guilty of thinking I put something off for only a day or two when in reality it's been a week or more. It's all wibbley-wobbley timey-whimey.
There was so much I wanted to do this summer. I never made an official bucket list, just mental notes. We experienced a lot of neat things (museums, aquariums, the zoo and bowling!) and had fun. Exploring the world with an almost 3 year old is much different than with a little baby or young toddler. And it's amazing to watch them grow, isn't it? I mean when we really stop and think about all the things our kids learn over the course of a year as well as how they've physically grown.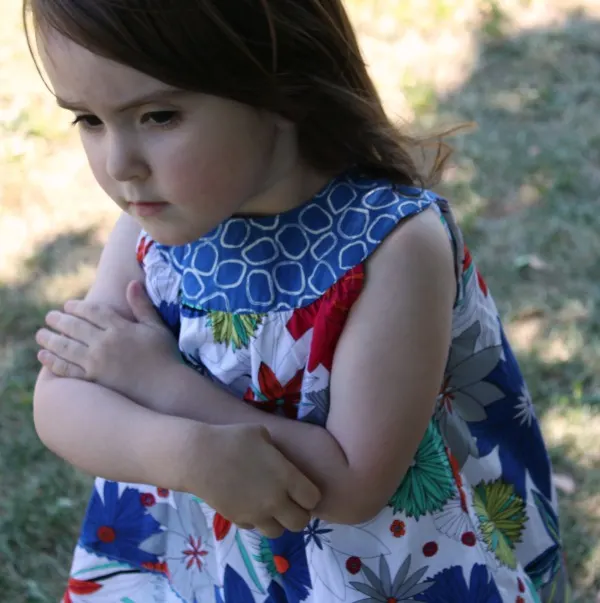 Rissa is losing her baby face and starting to look like a real little girl. She looks darling even if she does talk like a 5 year old boy. (I kid! She does engage in a lot of potty talk but really that's a kid thing not a "boy" thing. Just something that people expect from boys more or some reason.)
I remember not too long ago when she needed help to climb the playground equipment. She needed me to catch her at the bottom of the slide. Now she can do it all by herself (though she wants me to watch).
So many times I've wanted to step in. Make sure she doesn't fall, but I try to stay back and out of the way. She's heard me say it so many times that she assures me, "I'm being careful. I'm ok."
Then there's Xander. He's expressing more personality as his babbling increases along with his facial expressions. He likes playing peekaboo, being chased, and dancing. Just over the course of the summer he learned to sit, stand and crawl. He'll be walking any day now. I just know it.
This summer was full of gymnastics, swim lessons, story time, parks, playgrounds, family time and some travel. Please enjoy our summer recap video.
Though the memories live in my head, I'm thankful for the ability to capture so much of their lives in pictures and videos. There are moments that live in memory only, making them special in their own way while the rest provide ways to share our lives with others… as life is meant to be shared.
The clothing featured in this post were provided by Mamas & Papas from their childrens' clothing line. They offer trendy outfits for newborns through 4 years old. We loved the look of the clothing, though the buttons on Xander's shirt were difficult to button/unbutton mostly because he wouldn't stay still. Rissa loved her outfit, especially the top when she spun around.