For Halloween, as part of a sponsored post for Collective Bias®, we had a spooky family night with Nestle Tombstone Pizza and I made a couple desserts with Nestle and Wonka candies.
We had quite the weekend – a good family weekend making memories together (and making me a little gray-er). It started on Friday night when we headed to Walmart to get a few things.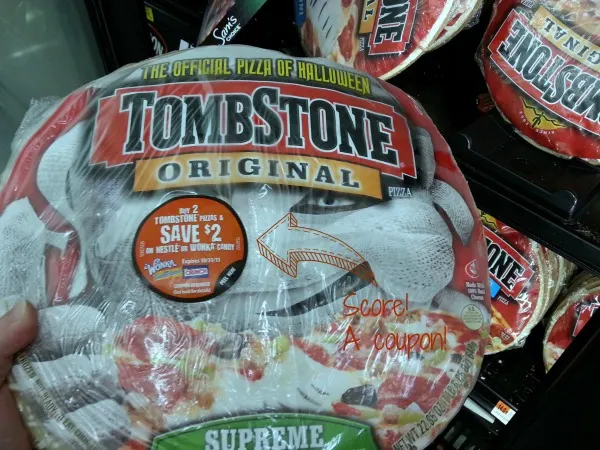 Right now Tombstone Pizza has fun spooky and scary monster pizzas to add fun to your plate! (You can check out my shopping experience in my G+ photo album.) My plan was for us to have a kid-friendly Halloween movie night with pizza, sweets and watching Spooky Buddies and/or Frankenweenie.
That all changed when we got home and found this.
So, our plans changed to include making our own bags to drop off instead of watching a movie. But that's okay! This was more interactive anyway.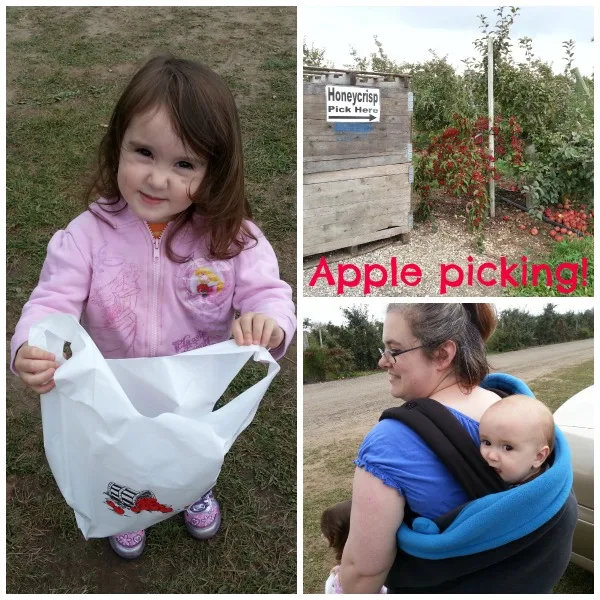 Saturday I was bound and determined to go apple and pumpkin picking. Unfortunately, the weather wasn't cooperating with us and we got rained out while at Barthel Fruit Farm. We almost filled a small bag with Honeycrisp apples though, so not all was lost. (And let me tell you, they taste delicious!) We still need pumpkins.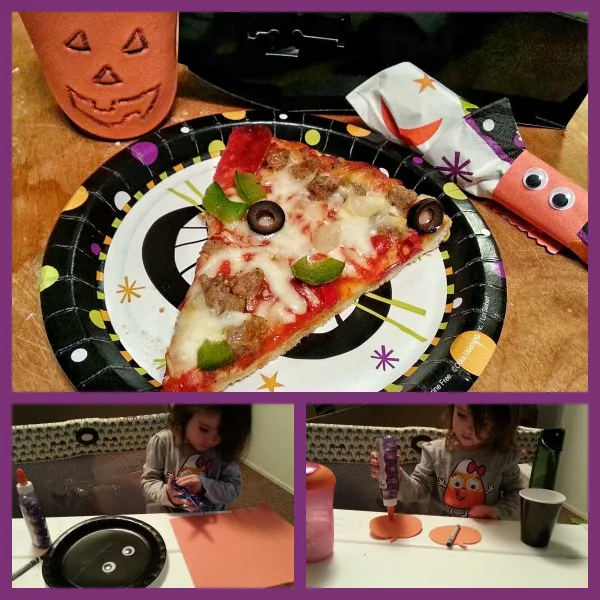 On Sunday, Rissa practiced using scissors and helped me decorate cups for dinner. We also made googly eyed napkin rings (using construction paper). She thought they were pretty silly, but the whole process got her super excited for dinner.
After dinner we decorated our Boo Bags and filled them with pencils, silly glasses, some candy and other little fun things. Our instructions said we had 48 hours to deliver bags to 6 other houses. Unfortunately, I knew there was no way we could pull that off (plus there aren't a lot of kids on our block). Instead, we made three little bags for the kids down the road.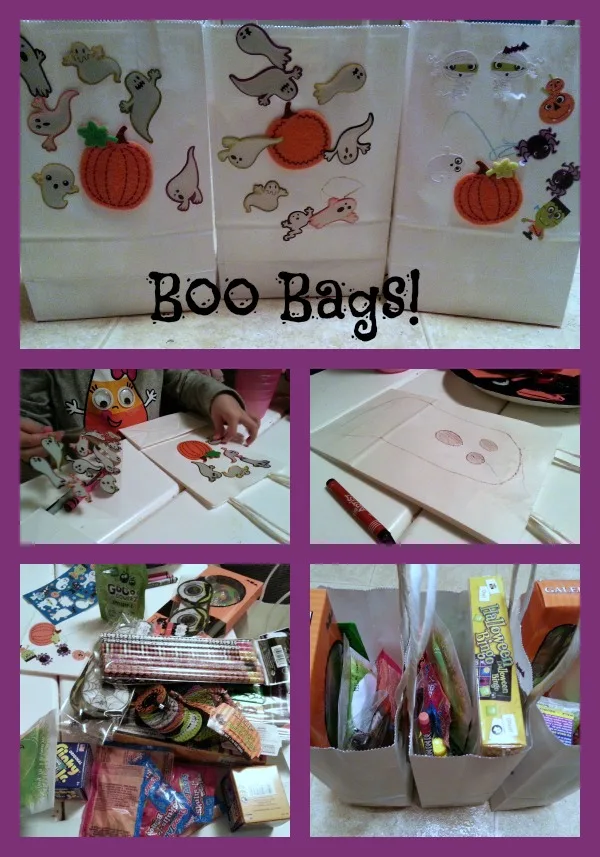 Rissa really wanted to give them to her friends at dance class but it's supposed to be an anonymous surprise…
Anyway, I didn't want them to feel pressured (just have fun) so I made a NEW instruction sheet (which you are more than welcome to use too).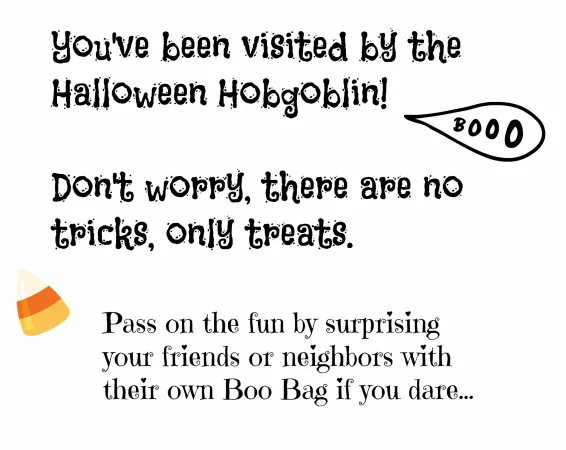 It doesn't take up the full page so you can trim it as needed. Click to download Boo Bag Printable
And, of course, Rissa wouldn't let me forget that she wanted a snack. And wanted to help make it. And eat it. So, we made a couple Halloween treats with the Nestle candy (Butterfinger, Nestle Crunch) and Wonka Nerds we bought.
I couldn't make up my mind, so we tried a couple things. I am going to tell you right now that both need tweaking BUT they are pretty tasty for first attempts. No matter how well I think my recipe is planned out, they rarely come out perfect. (I'm not even going to try and blame my daughter this time, ha!)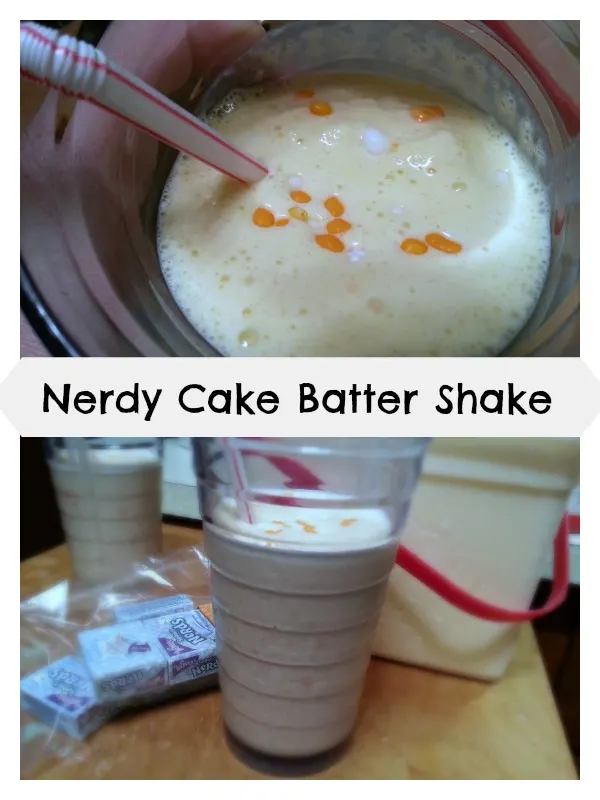 Nerdy Cake Batter Shake Recipe
I really wanted to make something with the Spooky Nerds candy. Our bag had white and orange Nerds, which were punch and orange flavored. I can concoct chocolatey goodness til the sun goes down, but Nerds presented a tangy, fruity challenge. My first run of this Nerds candy recipe left the pieces too big and our shakes too thin. Next time I'll grind them or smash them up better and thicken it up. But here is what I did…
5 scoops vanilla ice cream
1 cup milk
1/2 cup yellow cake mix
4 little boxes of Nerds (you should crush these!)
Blend the ice cream and milk together.
Add cake mix and Nerds and blend some more (my blender was not happy with me).
Pour!
After pouring, I tried to sprinkle a few Nerds on top for decoration, but they sunk! Over all it tasted good, but the Nerds were clogging our straws and collecting at the bottom of our glasses.
I wasn't done though. I whipped together Crunchy Nerd Finger Candy Bark. (Sounds frightful, doesn't it?) Since I was testing it out I made a small batch. I'll probably tweak it again with leftover Halloween candy.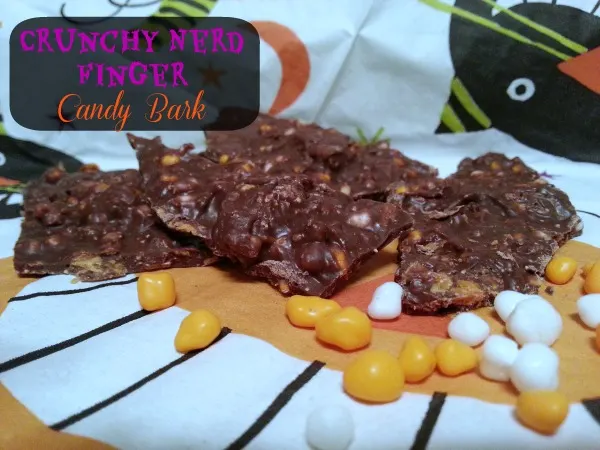 Crunchy Nerd Finger Candy Bark Recipe
4 Fun Size Butterfinger bars
4 Fun Size Nestle Crunch bars
4 small boxes of Spooky Nerds (assorted colors – we only had white and orange)
4 squares of chocolate almond bark
Crush Butterfinger bars and Nestle Crunch bars in a baggie with a rolling pin. They'll add crispy crunch and tasty flavors.
Melt chocolate bark in the microwave, 15-20 seconds at a time. Stir as it starts to get melty. Repeat until it is smooth.
Line a pan with parchment paper. Pour chocolate in a thin layer.
Add crushed chocolate bars and candy pieces. Spread it around, then refrigerate until hard.
Break into pieces and enjoy! It's an interesting flavor combo, but yummy! (Quick note, I attempted to pour the chocolate over the pieces and it doesn't work as well. I'm making the mistakes so you don't have too, heh.)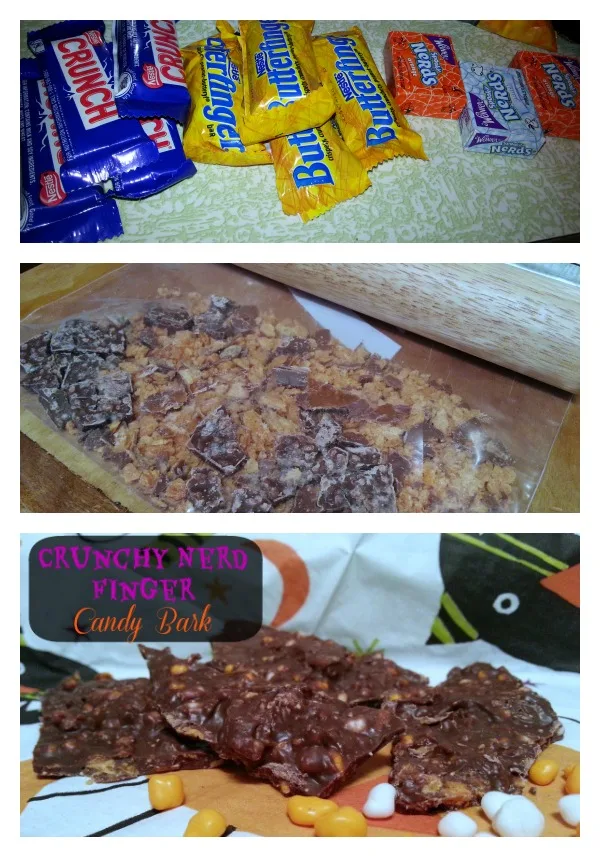 Then after all that, we quietly walked down the street to deliver our Boo Bags. Rissa did amazingly well at being quiet! Hope they enjoy them. Now, how was your weekend? Which candy creation do you want to try?
Disclosure: This is a sponsored post for Collective Bias® featuring our pre-Halloween family night with Nestle Tombstone Pizza and candies.