So, Rissa has become quite mobile. She is crawling and cruisin' like nobody's business! Which, of course, means I have to try and stay a step ahead of her for safety. This is NO easy task by any means! This girl is a magnet for trouble and goes for the very things she is not supposed to be near. She takes off to explore whenever there's an opening in whatever barricade I might have for her. This has resulted in me chasing after her half-dressed on a few occasions – not fun! One thing we are lacking is baby gates. Our house is set up ranch style but it's hard to figure out where we need to gate off and how to ensure the kitties have access to what they need too. Thankfully, Summer Infant had just what we needed….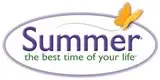 In my never ending quest to keep the cats out of the crib and off of her clothes (they love sleeping on fresh laundry!) and the need to keep her contained in the nursery without shutting the door, hubs and I decided that a gate for the nursery doorway would be great. (At some point we need to gate the kitchen off from both sides too….) So how could I keep baby in and the cats out?
We received the opportunity to try out the Sure&Secure® Extra Tall Walk-Thru Gate, which is one of their popular safety gates. Because of how tall it is, I know Rissa will not be able to attempt climbing it anytime soon AND it is too high for the cats to easily jump over since it is 36″ tall. I'm sure it won't keep them out 100% of the time, but I know the oldest fat cat is not interested in trying to jump it.
This extra tall gate features pressure or hardware mounting, ability to fit doorways 28″ to 47.5″ wide, swinging door that can swing one or two ways, and automatically closes. We decided to leave it with the stop on it, making it so it can only open one way. Rissa and I observed as hubby put it up.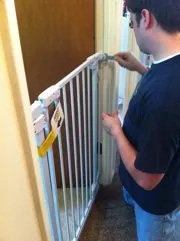 Our doorway is narrow enough that we didn't need the extension panels, but they are good to hold onto in case we move it to a wider opening. It was pretty easy to install with pressure mounting. It even included a handy wrench that assisted with tightening the mount in a tight spot so we weren't just relying on hand/finger strength.
At first we didn't have it quite right because we had a gap near the top of the gate. It seemed like it was right but we could push/pull the gate open without using the slide button on the top. Once we realized that and adjusted the mounting, it was right. With how tall it is, it would be quite some time before a little one could operate the gate. It requires you to slide a button on the top of the gate while lifting the gate up a bit, then pushing it open. I found it a little awkward at first while holding Rissa in the other arm, but quickly got used to it. The automatic closing is nice, though it doesn't always close tightly. If the gate isn't allowed to make the full return swing, it doesn't have enough momentum to shut properly. I paused it on accident a couple times which is how I found out it didn't shut right then!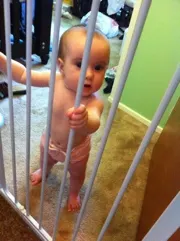 I did try to test it out a bit since I'm stronger than my daughter. I was yanking and pulling on it, but it did not come out of the doorway. I did notice the mounting slowly sliding so it could be pulled/pushed enough overtime. But, if you keep an eye on it and check it occasionally to be sure it is lined up right then it's good to go.
Final thoughts: I think this gate is a good option especially for near stairs. I hate trying to climb over gates and it's very dangerous to do that at the top of stairs. I also don't like the idea of the ones you step on to open because I just know kids are going to figure that out too quickly!
Connect with SummerInfant.com on Twitter and Facebook!
I'm happy to share that Summer Infant is sponsoring the same gate for our "Baby on the Go" prize package. Be sure to come back next week and enter!
______
FTC Disclosure: I received the product(s) mentioned above free of charge by the company or PR representative in order to conduct an honest review. I was not compensated in any other way for this post. The thoughts, experiences, and opinions included are entirely my own and may differ from that of others. I am not liable for any issues you may incur from use of said product(s). Images used are owned by me or provided with the company's permission unless otherwise sourced. See full disclosure information. If you have any questions you can contact me or leave a comment.