My daughter loves to be held and close to mama. I'm her favorite place. It's been like this since she was a few weeks old. It has presented some challenges along the way, but once I started babywearing, it made a big difference! I was at a loss when I ventured into babywearing, but a friend in Australia told me about the ERGO baby carrier. She also explained the importance of how baby was positioned ergonomically so as not to adversely affect spine development.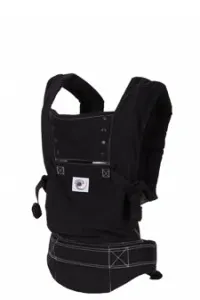 I quickly returned the "crotch dangling" carrier I bought out of desperation after doing my own research. I ordered the
Black Sport Carrier
and the
Infant Insert
, which must be used for babies less than 4 months old. Being a plus sized mama, I chose the sport for the extra length around the waist. I thought it was intimidating when I first took it out of the box – so many buckles! However, the instructions gave step-by-step instructions. I wish the illustrations were a bit clearer, but we figured it out.
I really liked being able to snap buckles into place and pull on the straps to tighten them. Wrapping always seemed too loose for me. With the ERGO I finally felt comfortable to truly wear my daughter hands free! I found it more difficult to put her on by myself when she was in the insert. After she had enough head control and was starting to want to sit, it was easier to put on by myself. I do find it easier to have hubby buckle the back strap, but I can do it alone and have done so many times. It's actually comfortable. The waist belt and shoulder straps distribute baby's weight across my body. My thighs are more likely to feel sore after a power wearing session than my back, neck or shoulders. I can feel a bit achy sometimes, but that's after a long day of wearing. (The crotch dangler had me sore in an hour.)
I mostly wear Rissa on the front. She loves it because she can look around and be apart of everything, yet easily check in with me or hide her face in my chest. She can reach out, kick/swing her legs, and even sleep. She likes to suck on the straps a lot though! I've tried to wear her on my hip a few times recently but I'm not finding it as comfortable. For me (probably due to being bigger) the strap is uncomfortable going across my neck. She's not big/old enough for me to feel comfortable putting her in my back yet.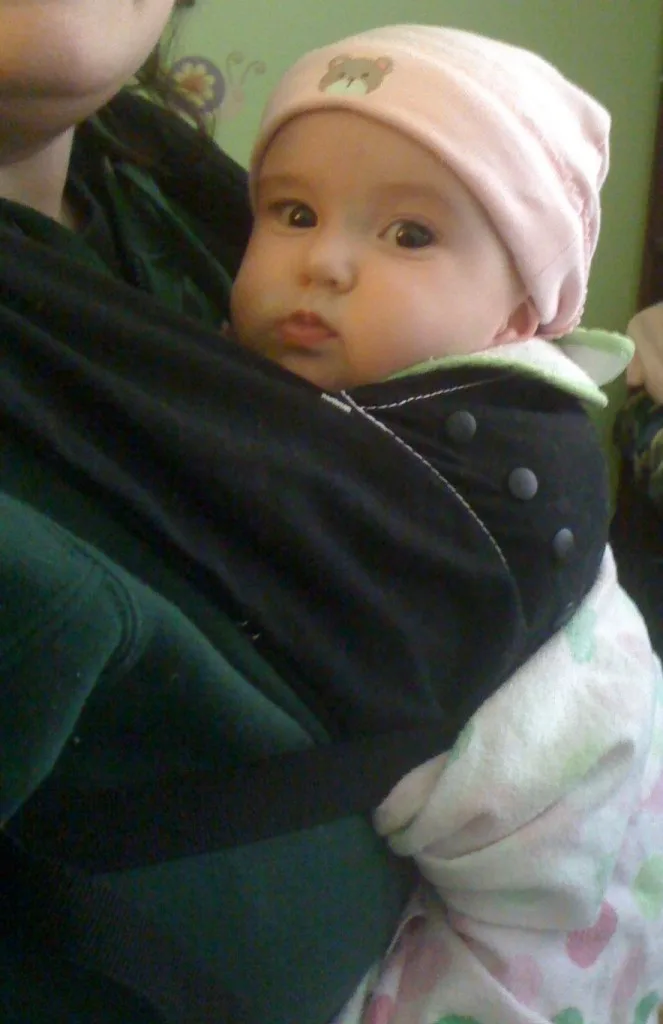 We've definitely gotten lots of use out of our carrier so far… it's been washed and dried a few times too. My struggle is keeping cat hair off of it. But that is a struggle for all our belongings in this house. Let's see…
Places I've Worn the ERGO:
Around the house
On walks
At family/friends house
While shopping
At the zoo
Tasks We've Accomplished While Wearing the ERGO:
Eating
Making meals
Gone to the bathroom (yes, really!)
Nursing
Laundry (I can load the washer, unload the dryer, and put laundry away, but it's hard to get it out of the top loading washer)
Blogging
Naps
For a complete list of standard features:
Waist belt extends an additional 5 inches from 30 inches to a maximum of 48 inches (Sport Carrier)
Shoulder straps extend an additional 4 inches compared to our Standard carrier (to 27″) (Sport Carrier)
Sleeping hood is detachable, and can be stored in carrier pocket
Zippered pocket replaced by pocket with easy Velcro closure for sleeping hood storage
400 threads per inch cotton poplin lining and hood
Body of carrier is 35% cotton and 65% polyester
One inch, high density foam in shoulder straps
Quarter inch high density neoprene foam in waist belt
High Quality buckles tested by SGS
High quality webbing, matched to carrier color
Reinforcement stitching used at all fabric intersections
Interior rip-stop reinforcements at critical intersections
Machine washable – cold, gentle cycles, mild detergent, no bleach. Dry in low heat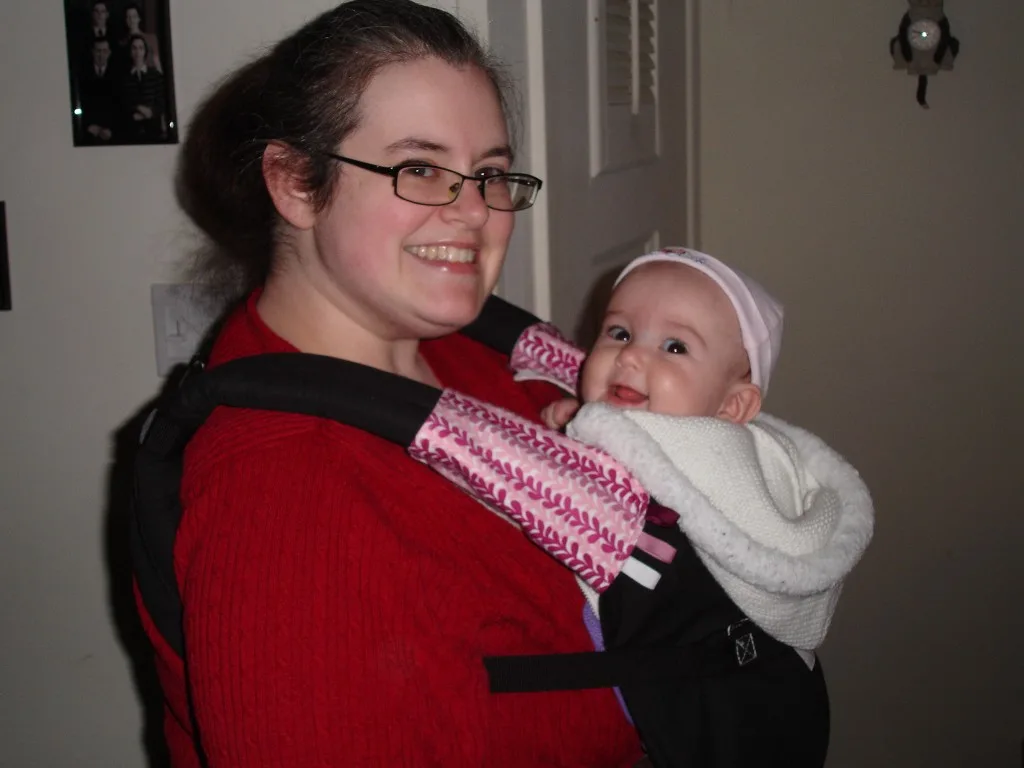 Final thoughts: I could go on and on so I need to wrap this up or you'll be here reading until next week! I don't know what I would have done without our ERGObaby. I wish I had bought it sooner! The $115 investment for the carrier is well worth it. It's lasted us a good 8 months already and we can continue to use it up to 40 pounds! Rissa's not halfway their yet. The infant insert was worth the extra $25 to start carrying her younger. I bought this, I love it, I use it a lot, and I'd buy it again. I recommend it to anyone that seems remotely curious or interested!
Connect with ERGObaby.com on Twitter and Facebook!
____
I was NOT compensated for this post. I purchased my own ERGObaby carrier in December 2010. They generously agreed to sponsor one for a giveaway though!